What Is A Non-Traditional Student?
A non-traditional student is someone who attends higher education as an adult instead of attending soon after graduating from high school. Non-traditional students may have a family, be a single parent, work full time, or have previous education experience. 
The decision to go to school as a non-traditional student can seem intimidating. However, there are benefits to choosing to further your education later on. The life experiences that non-traditional students gain before coming to college are valued and encouraged at West Virginia Junior College and can significantly affect their educational experience. These skills can all play a part in influencing a non-traditional student's experience in a training program that we value here at West Virginia Junior College. WVJC has compiled a list of five benefits of being a non-traditional student. Read on to learn more!
1. Soft Skills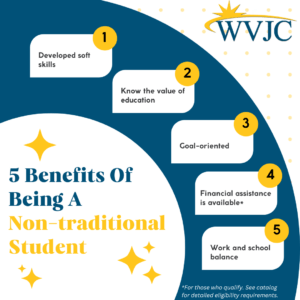 Non-traditional students have had their own experiences and learned valuable skills before they begin or restart their education. As a result, these students have their own unique perspectives that they can bring to classes and apply to their education. These skills are best learned in the real world through experience rather than in a classroom and are called soft skills. A few examples of soft skills that non-traditional students may have can be:
Communication
Strong communication skills are invaluable because you will always have to communicate with someone, whether it be a manager, coworker, peer, or friend. Having strong communication skills makes it possible to develop strong personal relationships with others.
Teamwork
With the increasing role of team-based projects at work, it is important to be able to work cohesively as a member of a team. It is likely that your next job will require you to work in a team, at least some of the time, so developing this skill will give you an edge.
Work Ethic
A strong work ethic is incredibly important, but it is also one of the hardest skills to learn. A good work ethic can set you apart from your coworkers and propel you further in your career. Being dependable, holding yourself accountable, and having integrity in your work are all signs of a strong work ethic.
2. Value Of Education
Non-traditional students make the decision to attend school after starting a family or working a different job. As a result, they know the value that their new education can provide. This additional knowledge about the reward, or the light at the end of the tunnel, can become a vital source of motivation to push them into completing their education.
3. Goal-Oriented
The life skills that non-traditional students develop in their time after high school can help the student identify what exactly it is that they want to do for their career. With an idea of what they want their future to look like, non-traditional students are able to create SMART career goals for themselves.
4. Financial Assistance
Although college can be expensive, many resources are available for students, such as scholarships*, grants, and other financial assistance. WVJC offers several scholarships* for those who qualify. Also, there are other ways to get assistance. A WVJC financial aid team member will assist you in filling out the FAFSA to determine your eligibility for additional student aid. There is the possibility of a work-study as well, which can be a great way to earn extra money if you don't have a job.
5. Work And School
As a non-traditional student, you can balance your school life with your family and work. This means you can continue your education without feeling like you need to put your life on hold. At WVJC, we recognize that students will be busy juggling multiple aspects of their lives, and our team is dedicated to helping you accomplish your goals.
Start Your Journey As A Non-Traditional Student Today!
Are you a non-traditional student that wants to complete healthcare or professional service training to expand your employment opportunities? If your answer is yes, then West Virginia Junior College is the place for you. Start your journey by Requesting Information or contacting the campus that works best for you!
*For those who qualify. See catalog for detailed eligibility requirements.