Today, October 18th, 2023, is National Medical Assistants Day, and WVJC is here to show our appreciation for all that medical assistants do! We will explain the job duties of a medical assistant and why they are essential members of the healthcare team. Read on to learn more about these healthcare heroes!
What Is A Medical Assistant?
Medical assistants are versatile members of the healthcare team who work closely alongside nurses, nurse practitioners, physicians, and more. According to the US Bureau of Labor Statistics, the need for qualified medical assistants will continue to grow. This growth can be attributed to the aging baby boomer population needing increased medical care and the current workforce retiring, opening new positions to be filled.
Medical assistants' training in clinical and administrative tasks allows them to be valuable assets in medical facilities, including outpatient care facilities, medical offices, clinics, hospitals, and more. The facility a medical assistant decides to work in can determine their exact job duties; however, WVJC medical assisting students are trained in the following skills:
Administrative Skills: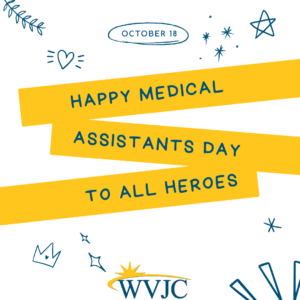 Updating medical records,

Answering telephone calls,

Managing the check-in process,

Scheduling future appointments,

Coordinating hospital admissions,

Arranging lab services and more!
Clinical Skills:
Performing basic lab tests,

Recording medical histories,

Preparing patients for examinations,

Assisting doctors in basic procedures,

Explaining treatment procedures to patients,

Preparing medications and more!
What Is National Medical Assistants Day?
National Medical Assistants Day is a part of the greater Medical Assistants Week, which aims to bring awareness to the medical assisting profession. Medical Assistants play a crucial role in the care patients receive in medical facilities, and the widespread attention of Medical Assistants Day can make those who work in these important positions feel recognized and appreciated. 
Ways you can celebrate Medical Assistants Day include sharing posts on social media using hashtags or simply thanking any medical assistants you may know or encounter. If you've had an exceptionally positive experience with a medical assistant, be sure to let the physician or staff know to ensure they get proper recognition for their hard work!
How To Start A Career As A Medical Assistant
If you are interested in beginning a career as a medical assistant, the first step is to research programs that best meet your individual needs. For example, WVJC offers residential medical assisting training at our Bridgeport and Charleston campuses in both 18-month degree programs and 9-month diploma programs or online clinical medical assistant degree classes through WVJC Online. Choosing the program that best fits your lifestyle and needs will help set you up for success throughout your studies.
While completing a WVJC medical assisting training program, you will also gain hands-on experience during an externship with a local healthcare employer in addition to the skills you learn in the classroom. You will also be prepared to sit for several National Healthcareer Association certification* exams to prove your qualifications further and strengthen your resume!
Start Your Journey To A Medical Assisting Career!
Do you want a career where your work makes a difference in a patient's experience, where you can practice both direct patient care and administrative work? If you answer yes to any of these things, a medical assistant career could be the perfect fit for you! 
Start the process of attending a medical assisting training program at WVJC by Requesting Information to speak to one of our admissions team members today!
*Certification is contingent upon passing the corresponding industry certification exam.