Meet WVJC Faculty Member Cindi Settle!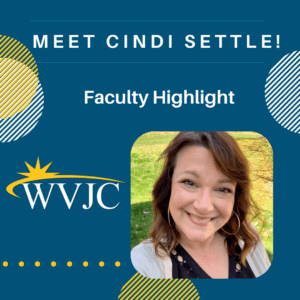 Cindi Settle graduated in 1992 from South Charleston High School in South Charleston, WV. She went on to pursue her bachelor's degree in psychology from the University of Charleston with the goal of eventually obtaining her Ph.D. to open a clinical practice. She continued her education and received a Master's in Clinical Psychology and an Educational Specialist Degree in School Psychology from Marshall University.
In addition to the teaching opportunities provided by WVJC, Cindi teaches part-time for West Virginia State University as an adjunct professor in their high school dual credit program. She is a full-time School Psychologist in Kanawha County Schools, working at the elementary level in Saint Albans, where she currently resides. Before her current position with Kanawha County Schools, she worked for Logan County Schools as a School Psychologist. Early in her career, she worked as a Victim Services Coordinator for the Kanawha County Sherriff's Department and for the Arlington County Prosecutor's Office. She also had the opportunity to work as a Supervised Visitation Coordinator for the Center for Children in Maryland.
Cindi has been with WVJC for only a few short months, teaching the online Psychology 201 course for various campuses. She looks forward to what other opportunities may come her way in this new teaching role.
Her husband also teaches at WVJC and has had a wonderful experience teaching online and in-person classes. When the opportunity to join the teaching staff at WVJC presented itself, it was a no-brainer for her. She was looking forward to working in an environment that would offer her "a new opportunity to teach Psychology, and that also offers a caring and supportive environment to their staff and students."
She loves how the students are a good mixture of traditional and nontraditional with varying degrees of educational and occupational experiences and backgrounds. She believes that this allows for great discussions about psychology.
Her family is a huge motivator for her. From the time she started college and even before starting a family, they were what drove her to be successful. She wanted to be a mother that set a positive example to her children that, with hard work and drive, anything is possible. She has always had high expectations of herself, and her family has always been her supportive cheerleaders. She states that "it feels good to make them proud."
Cindy finds several reasons to be proud of herself. She is proud that she has raised five little people into the good and kind teens/young adults that they are. She is proud of the hard work and dedication that she had to pursue her educational goals. She is proud of the work that she does for students in a School Psychology capacity as well as in a teaching capacity.
She hopes to continue her career with Kanawha County Schools until she can retire; then, she plans to continue teaching for WVJC and WVSU.
Cindi says that she is "a Diet Coke snob" and is "completely addicted." She prefers it from the fountain in a Styrofoam cup and says that it keeps it colder. She says that "You will usually also find me with a diet Coke to-go after dining at restaurants."
She is an avid reader, and if she could make a career out of it, she would. She facilitates a Facebook reading group called "Reading Brings Us Together," which she loves. She has a fashion YouTube channel called "SincerelyCindiSettle" that keeps her busy, and also loves to travel.
To learn more about the employment opportunities at WVJC, click here!