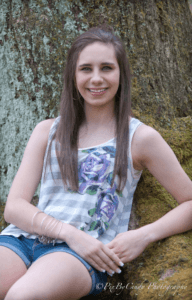 Autumn Barnhart is set to graduate in September 2018 with her associate degree in Medical Assisting. Her excitement to graduate and begin her career is visible every day at West Virginia Junior College Bridgeport. Autumn took a year off after graduating from high school to think about the direction she wanted to go in. She graduated from high school in May of 2016 and made the choice to pursue her college education at WVJC in May 2017. There were many reasons surrounding her decision, but ultimately, she didn't want to make her job at Texas Roadhouse a career.
She chose WVJC-Bridgeport because she wanted to better her future by furthering her education. Autumn has always had an interest in the medical field and therefore, gravitated toward our medical assisting program. She feels confident that getting her Clinical Medical Assistant degree will be a stepping stone toward her goal of becoming a Registered Nurse.
Autumn's favorite part of attending WVJC is being able to continue to work while in school. She also enjoys the WVJC staff! "The staff is willing to help. You can tell they WANT to help and that makes all the difference!" Autumn especially loves Ms. Holyfield. She has helped Autumn improve her study skills and has a way of "making you want to become a better person." In general, WVJC has taught her that "your beliefs don't make you a better person. Your behavior does."
Autumn's idea of a perfect day is coming to school in a great mood and learning something new. She loves the challenge of learning new material for the medical field. She says that putting all this knowledge to use one day will be a great feeling. Her future goals include graduating from the program and starting her career as a medical assistant at WVU Medicine. Down the road, Autumn wants to pursue a career as a Registered Nurse. Her five-year plan is to have a job at WVU Medicine and settle down and start a family and be "supportive and helpful to anyone in need."
If you, like Autumn are looking for an exciting career as a Clinical Medical Assistant, request information today!