Meet Information Technology
Student David Dille!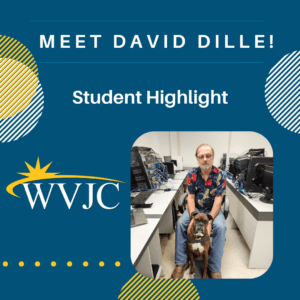 David Dille started a college program at Webster in Fairmont around 1994 but dropped out to help care for his mother. Even though it was an IT program, he was not happy with it. Taking care of his parents also kept him from finding an IT program that worked for him; additionally, he feels that life got in the way, which was a big factor in his choice to go back to school, even when he thought he would never be able to.
Before David started WVJC, he worked as a general cleaner for Patton Building Services. He would travel to multiple buildings and clean them, which entailed taking out the trash, cleaning the bathrooms, sweeping and mopping the floor, wiping the desk and counters, and vacuuming. He felt that it was a good job, but it did not make him happy, and he felt depressed most of the time. He also had to work 12 to 15 hours a night, seven days a week sometimes—so it seemed like all he did was sleep and work.
David chose WVJC because he wanted to change his career path. He had seen the building because he worked near it. The VA reached out and offered to pay for his schooling; furthermore, they offered to help him get a job related to his military training. He started researching WVJC, and the VA also recommended it to him due to their prior affiliations. The fact that WVJC had an IT program sounded very compelling to him.
David's love for the field of IT began in high school, where he took an electronics program. After high school, he joined the military and the crypto technician maintenance program, which furthered his love for the field. David likes the constant excitement of working on different pieces of equipment and the problem-solving aspect of the job, such as trying to figure out why the equipment or the network is not working. He also loves working all over the building or traveling from site to site. The whole field, from installation to maintaining the network and fixing it when there is a problem, intrigues him.
David's favorite Teacher is Robin Addis, but he also feels that all the WVJC teachers are great. David says, "If there is a problem or you are having trouble, all you have to do is ask, and they will go out of their way to give you tutoring and extra instruction to keep you on track." He says that Robin was so patient with him and the anxiety that he felt; every time he asked for her help, she would explain the area he was struggling with in detail. When he was struggling to balance his job with school, she listened to him and encouraged him not to give up until he was finally able to make the decision to quit his job to concentrate on school.
David does not have a favorite class but has several classes that excite him. Networking is one because they were lectured and got to work with live equipment. He also enjoyed the software, where they were lectured and then worked in a virtual environment. He enjoyed databases because he learned to write code to extract reports from a database. He enjoyed the hardware class because they learned about computers, printers, keyboards, and how a computer works; additionally, he built a computer. He also felt that the general education classes were beneficial because they helped him with his English; writing and research helped him with his communication skills; and psychology helped him with understanding people and how and why they react. David feels that all the classes have given him the skills to pursue his IT career better.
David's ideal job after graduation would be working in IT for the DOD or the VA. He has always liked being of service to the DOD or at the VA for his fellow veterans. Working in the IT field and doing a job that he loves and makes him happy excites him. He feels tired of hating his job and dreading going to work. Ever since he took the federal work-study position that Robin offered him, which allowed him to quit the job he dreaded going to, he has never been so happy, and he thoroughly enjoys the work that he does. David says, "Even my psychologist has commented that she sees a change in me and my attitude and that I am a much happier person."
David would recommend WVJC, and he has already told several people that they should try WVJC if they want to make a change in their life. He said that "WVJC is not just another school that does not care about their students. WVJC does care about its students and gives them everything to help them succeed. They do not wait till you are in trouble with your grades or failing a class; they offer tutoring and anything the student needs to succeed in school."
David would advise anyone looking to start school at WVJC to check out the programs and request information. He would advise them to click on the get started button, fill out the application, then answer the phone when WVJC calls. He says, "It is just that easy. You will be done with school before you know it and start your new career. Don't forget to study and work hard in your classes."
David feels that WVJC has prepared him for his new career by teaching him skills and how to communicate and giving him the confidence and knowledge to know that he can do the work. He also gained experience through the externship and the work-study program, which looks great on his resume. WVJC has prepared him for his career, and taking and passing the certification* exams for the IT field; shows that he is certified to do the work.
David's hobbies include horseback riding and camping. One interesting fact about David is that he has a service dog named Junior who helps him navigate life and deal with his anxiety and PTSD.
To learn more about the career-focused programs at WVJC, Request Information here!
*Certification is contingent upon passing the corresponding certification exam.