Be Career Ready in 9 Months!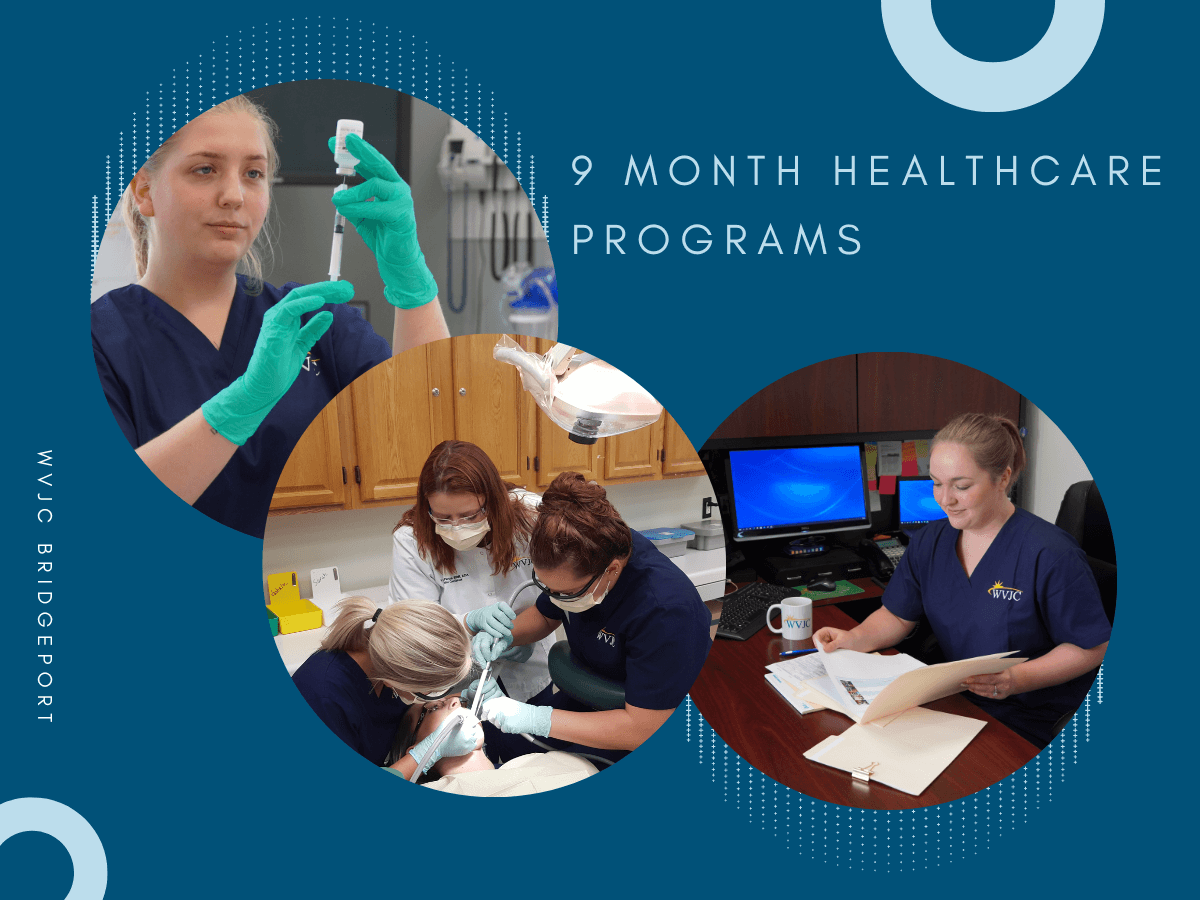 West Virginia Junior College Bridgeport has offered career-ready education programs since 2002. The newest option for those seeking a career in the ever-growing medical field is the 9-Month diploma option for our Dental Assisting, Medical Assisting, and Medical Office Administration programs. The nine month accelerated programs at WVJC help students balance family, work, and college. This allows students to fast-track their education through a combination of on-ground and online classes.
The option to complete the same high-quality educational program in 9 months or 12 months provides the student the opportunity to meet their individual needs and goals. The fast-track 9-month option prepares students to work in the field and obtain national certification* in specialty areas to meet the needs of employers in our area. Employers are excited about the opportunity to hire new employees and fill their workforce gaps quicker now.
Students who enroll in the accelerated, 9-month programs can benefit from on-ground classroom instruction for clinical or skill-based courses while enjoying the flexibility of online education for classes that do not focus on hands-on skills. Program directors and instructors work closely with students to ensure their success in the online course environment. Instructors provide live tutoring sessions and arrange in-person meetings to assist in any area of concern or to remediate content. Students enrolled in the Medical Office Administration 9 month program receive training in specialized areas such as medical coding and billing, electronic health record management, and office management. Students enrolled in the Medical Assisting 9 month program receive training in blood draws, EKG, diagnostic medical procedures, wound care, and ambulatory care. Students enrolled in the Dental Assisting 9 month program to receive training in dental office procedures, radiology, chairside assisting of the dentist, and infection control. All accelerated 9-month programs complete an externship where they receive on-the-job training in the field at a clinical location while being supervised by the office staff and physicians.
To learn more about WVJC Bridgeport's nine-month healthcare training programs, request information here!
*Certification is contingent upon passing the corresponding industry certification exam.