The transition from high school to college can be a difficult one.  As a senior in high school, you start to feel the crunch of what happens after graduation pretty early on. Emma Harvey knows this feeling well.  As a senior in high school, Emma was looking for a place that might be a good fit for her to pursue her post-secondary education. She knew she wanted to be in the medical field, but finding the right place to head down that career path was important. Emma said, "Once I came to the school (WVJC) and sat down with Jess (Jessica Lowe), I immediately knew and felt like I was home where I was meant to be."  WVJC prides itself on an intimate, family-like atmosphere, so we love to hear when our students feel that when they go through our admissions process and begin classes.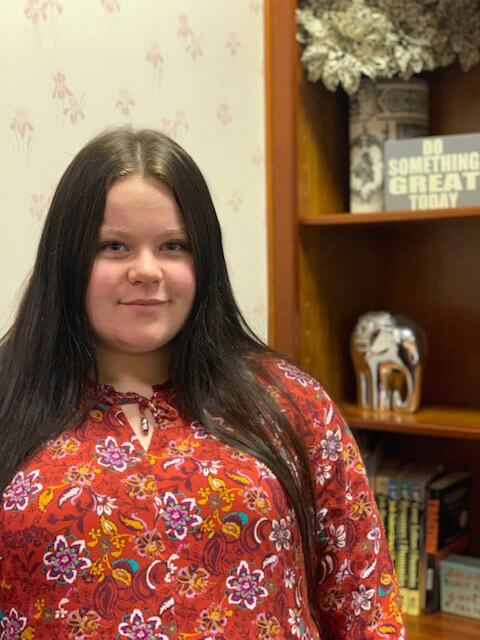 Upon graduating from high school, Emma set her sights on her next step, and before she knew it, was in classes on WVJC's campus. "My favorite part of attending WVJC would have to be the people within it.  Everyone is so kind and down to earth.  Everyone gets along, the communication is outstanding, and you can build a really close bond with so many people."
Emma is in the Clinical Medical Assistant Program at WVJC.  She knew in high school she wanted to be in the medical field. "I have grown up in a family (where) healthcare (is a common profession). There are doctors, nurses, EMT's, and medical assistants in my family."  With that kind of background, it is no wonder that she chose to start in the medical profession! "I have always loved the human body, being around and caring for others, making people feel better, so I worked really hard to get myself here and I plan on completing my journey and reaching what I have dreamt about for so long."
Emma's commitment to the healthcare profession is evident. When asked what she hoped to do with her associate degree when she graduated college, she said, "I want to start off working as a CMA in the Gynecology department of UHC in Clarksburg."  The great thing about a student already having a focused goal like this is that WVJC's Career Management department can begin working with her early-on to help her reach that goal!
The other striking thing about Emma is her vision for the future. She already knows the path she wants to be on and where she wants it to take her. "In five years, I hope to be going through nursing school at WVJC to become a Registered Nurse."
"I would recommend WVJC in a heartbeat!  It's a fantastic school that so many people would and do enjoy. I would whole heartedly recommend WVJC to a friend!", Emma says of the school.
If you would like more information on WVJC and its Clinical Medical Assistant program, go to wvjc.edu or give us a call at 304-296-8282 today!