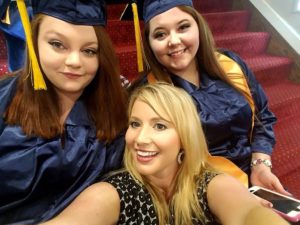 If you have ever requested information about one of our programs, chances are, you have spoken with Kellie Moore. As our Senior Admissions Representative and Training Manager, Kellie is your first contact with the school. When a request for information is made, Kellie is the one who calls, texts, or emails you. She is also responsible for scheduling interviews with prospective students where she explains our programs, talks about available benefits, and gives personalized tours of the campus.
Kellie Moore attended WV State University where she earned a Bachelor's Degree in Communications with an emphasis in Public Relations. While there, she was a news anchor for the WVSU news channel and also Vice President of the WV State University Public Relations Student Society. After graduation, Kellie found herself working for a local college. She never expected to be in that type of career, but found she really enjoyed working with students. Her love for people kept her on that career path and eventually led her here — to West Virginia Junior College!
When asked why she chose to work at WVJC Kellie responded, "I have always enjoyed working with students and helping them transition from being a student, to finding a career. When I interviewed with West Virginia Junior College, I could clearly sense the dedication they have to seeing each of their students succeed. That dedication, combined with the friendliness of the staff, convinced me this was definitely the right place for me!" Kellie has been part of the WVJC Charleston team for two years now. She says she gets a lot of satisfaction from seeing students she has enrolled now working in her local community. "I love to walk into a business and see one of my students! It truly thrills me to watch them thrive in a new career where they are happy and fulfilled. I'm just so glad I could play a small part in that."
In addition to her love for people, Kellie also has a soft spot for animals. She has always been an ardent dog lover and has two adopted dogs of her own. Trooper and Willow are her "fur babies" who she dotes on every day. If her husband would let her, she would have a whole house full of puppies! She is also a huge advocate of rescuing animals from shelters. "Adopt, don't shop!" has always been her motto. "There are so many animals out there who need adopted, I just think it's a shame to look anywhere else."
As for what she would like to do in the future, Kellie says she would love to travel the world with her husband. "There are so many amazing places I would like to see!" Every year they travel to a different Sandals resort to celebrate their wedding anniversary. This year marked their eighth visit to a Sandals location. "I just can't help it! I love the Caribbean! Since we were married in Jamaica, the area holds extra special memories for us."
We at West Virginia Junior College Charleston love Mrs. Kellie Moore dearly. Her ever-present smile, bubbly laugh and cheerful attitude are sure to brighten even the gloomiest day! If you ever need a quick pick-me-up, her office is the one to visit!
If you are considering coming back to school, or possibly enrolling for the first time, Kellie would love the chance to talk with you. She is passionate about helping students find their perfect career and can help you overcome any obstacles that might be standing in your way. Don't waste another day working a job you dislike, give her a call today at 304-345-2820 and take those first steps towards a better future!