Meet Executive Administrative Assistant Gianna Villanueva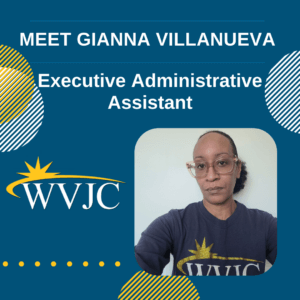 Gianna Villanueva's journey through education and career has been a testament to her dedication and passion for the field of medical office administration. After graduating from West Virginia Junior College in December 2015 with a Specialized Associate Degree in Medical Office Administration, Gianna embarked on a remarkable eight-year professional journey. She has come full circle today, working at WVJC once again as an Administrative Assistant.
Over the past eight years, Gianna's career has been marked by her tireless efforts and commitment to her role. Her initial experiences saw her at the front desk of various doctors' offices, where she honed her skills and gained valuable insights into the healthcare industry. This invaluable experience prepared her for her current role at her alma mater, WVJC. Gianna's return to WVJC was driven by her love for the institution and her belief that it provided an environment where she could work for many years and continue to grow professionally.
What sets WVJC apart for Gianna is the institution and the people she works with. For her, the camaraderie and support of her colleagues and the motivation she receives from her family are the driving forces behind her success. Surrounded by hardworking individuals who share a common goal of giving their best, Gianna finds inspiration every day. Her family, too, plays a significant role in motivating her to strive for excellence, as she is determined to provide the best possible life for them.
One of Gianna's proudest achievements is her journey up the career ladder and the life she has built for herself. She has invested time and effort in her professional development, steadily climbing the ranks and earning her current role as an Administrative Assistant. This accomplishment serves as a testament to her perseverance and dedication.
Gianna's response reflects her deep-rooted connection to the medical field when asked about her long-term career goals. She acknowledges that the medical field is where most of her experience lies and where she feels most comfortable. While she envisions a long-term career in healthcare, she remains open to exploration. Gianna is taking the time to carefully assess where she can make the most significant impact and contribution within the medical field.
Beyond her professional life, Gianna also enjoys a range of personal interests and hobbies. She is proud of her multicultural heritage, being Half Belizean and of mixed Spaniard descent. This diverse background enriches her life and perspectives. Gianna is an avid traveler, taking the opportunity to explore new places whenever possible. She also finds joy in immersing herself in the world of movies and TV series, where she can unwind and relax.
Perhaps one of the most cherished aspects of Gianna's life is spending time with her husband and their beloved dogs. These moments of togetherness provide her with a sense of happiness and fulfillment that complements her demanding professional life.
Gianna Villanueva's journey from graduating with a medical office administration associate degree in 2015 to her current role as an Administrative Assistant at WVJC is a testament to her dedication, hard work, and love for the medical field. With the support of her family and the inspiration she derives from her colleagues, Gianna is committed to continually striving for excellence in her career. Her multicultural background, passion for travel, and love for her family and dogs round out a life filled with diverse experiences and cherished moments. As she continues navigating her long-term career goals within the medical field, Gianna's story inspires those pursuing their dreams and aspirations.
Request Information here to learn about WVJC's accelerated residential or online programs!