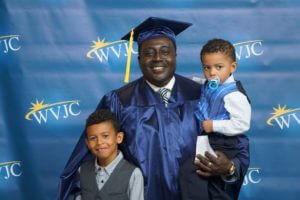 Akwasi Opoku-Achampong graduated in 2017 from WVJC's Medical Assisting Program. Akwasi is a dedicated father and student. Before going back to school, Akwasi was a Behavioral Health Clinical Auditor who specialized in Medicaid overpayments. After contemplating the future of his education, Akwasi choose to come to WVJC after he heard one of the college's commercials on the radio. He recalls that moment in his life, "it was very appealing to me, so when I got home I jumped on my computer to do a little research. Everything I found was intriguing and exciting so I called to check it out".
Akwasi is married with two children. He wanted to start a program that he could successfully complete and was able to build upon in the future. During the course of his Medical Assisting program at WVJC, he also enrolled in a program to earn his Geriatric Nursing Assistant Certification, which helped him become licensed by the Maryland Board of Nursing.
His favorite part about WVJC is the willingness of all the instructors and staff to help him succeed. As Akwasi described, "It was so evident that I just wanted to do whatever I could not to let them and myself down". He also enjoyed his clinical labs. He felt supported throughout the entire journey at WVJC. When asked about the people at WVJC who affected him the most, Akwasi answered: "Erin Goldman, Admissions Representative was the first person I talked to. She was able to answer all my questions which contributed tremendously in my decision making. Paula Johnson, Financial Aid Representative made the process painless and hassle free. Last but not the least, Rayan Matthews, Clinical Medical Assistant Program Director kept encouraging and pushing me through my classes. I don't know what I would have done without Rayan's help. She is a great leader".
Although Akwasi wondered if he would ever be able to reach his goals, he was very proud to see his children witness their father's graduation. It was very motivational and inspirational to them, he described. Akwasi wants to further his education and go on to be a nurse practitioner in the future.
If you're looking for a new exciting career as a Clinical Medical Assistant, call 877-25ONLINE or Request Info today!!