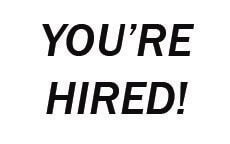 Interviews are one of the most nerve-wracking situations an adult can go through. However, if you do your research, you will be prepared to take on any question and also come up with a few of your own to ask. When first researching a company, you want to visit their main website, as well as Facebook, LinkedIn, and Glassdoor. If you know someone who is working for the company, try to get a realistic view of the day to day operations. It is also important to research the field you are going to be working in, as well as competing companies to best answer more specific questions and provide insight into how you can best serve that position.
Resumes should be tailored to the specific job you are applying for. If the job is more customer service based, for example, be sure to emphasize the jobs you had working with customers. If it is a medical position, make sure to include any and all certifications and training you've had that is applicable to the job. One of the most important things a graduate of WVJC can have on their resume is their externship. This, for some, is the only experience they've had directly in the field before they graduate. As always, make sure to list your name, address, phone number, and email. All of your jobs should be listed in descending chronological order.
You want to exude professionalism and confidence, while still maintaining your authenticity. One way you can go about this is making sure to dress appropriately. To have an interview ready wardrobe, you will want to invest in the following: dress pants (black, grey, or navy blue), dress shirts/dress blouses, a solid colored blazer/suit jacket, and a nice pair of flats/dress shoes. Once you have your outfit picked out, make sure it is clean and ironed. Before you leave the house for the interview, make sure you have at least three copies of your resume/references, a pen and paper, and questions to ask the interviewer.
"Tell me about yourself." This is one of the most difficult questions for most people. When a potential employer asks you to tell them about yourself, they're not actually asking to know all about your life. What they want is a concise rundown of your professional and educational experiences beginning with the most recent one. The best way to prepare for tough interview questions is to practice with friends or family. WVJC also offers mock interviews with our Career Services department.
Lastly, you always want to stand out among other potential candidates. Always ask for a business card at the end of every interview and send a thank you card immediately following the interview. This shows a level of respect for their time, and will surely make you stand out from other applicants. Even if the interview didn't go as well as you hoped, sending the card could be the touch of class that tips the scales in your favor. If you have waited a week or more and haven't heard any news on the position, feel free to email the interviewer and reiterate thanking them for their time and how you look forward to hearing back about the position. It's a gentle nudge while still maintaining respectful and professional boundaries.
For questions regarding more interview tips or to schedule a mock interview, please contact Samantha Esposito or Alannah Bohon in Career Management!