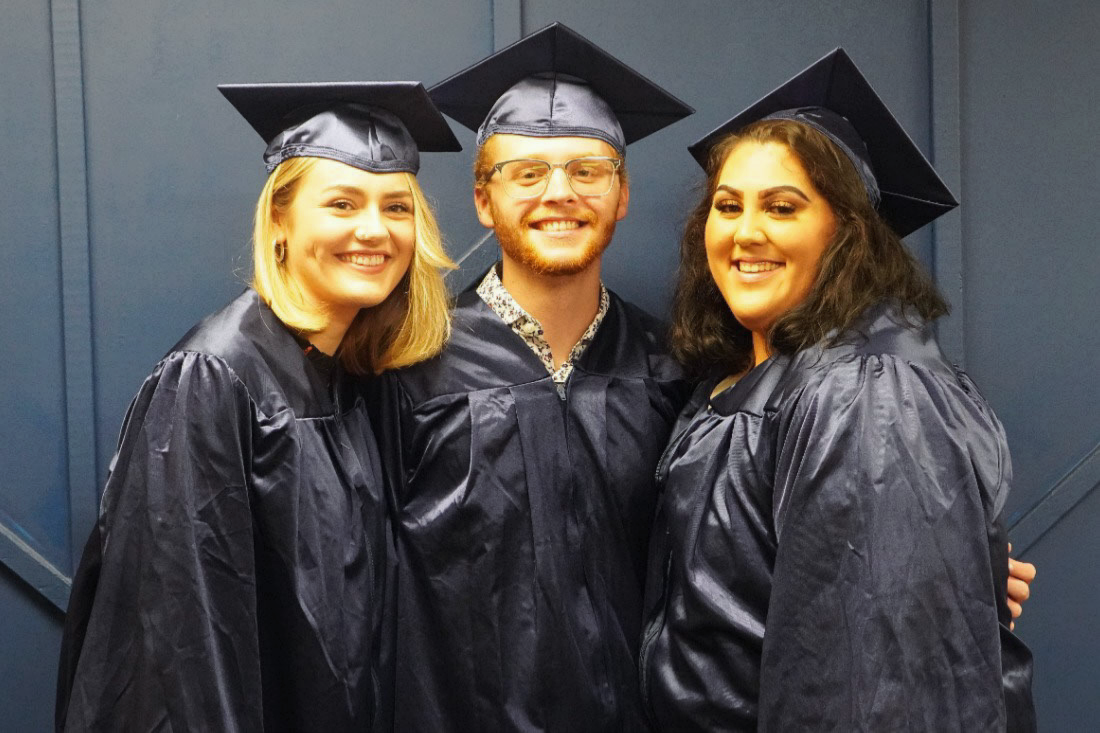 At West Virginia Junior College, we know that every student is unique and deserves an educational experience that meets their individual needs. That's why we have created a learning environment that works for students, regardless of their unique situation.
WVJC offers a different educational approach, allowing students to balance their families and work schedules with their college experience. Continue reading to learn more about what sets WVJC apart from traditional colleges!
Education That's Close To Home
At WVJC, we understand that many students live busy lives and have responsibilities aside from their education. To help make the transition into college smoother, WVJC offers programs that can be completed in person in multiple locations in West Virginia or completed online. Our campuses in Charleston, Bridgeport, and Morgantown allow students in the area to complete their courses at a facility that is close to home. Students across West Virginia and the surrounding states can earn certain healthcare or professional service degrees online.
WVJC offers hybrid-online nursing programs based in Beckley, Huntington, Parkersburg, and Martinsburg for students interested in pursuing a nursing career. Students in these areas will take didactic courses online and complete clinical rotations at local medical facilities. No matter where in West Virginia you may be located, WVJC is here to offer you an educational experience close to home.
How We Support Our Students
Our WE CARE educational experience puts our students first at West Virginia Junior College. From the time a prospective student reaches out to us, continuing through to graduation day, our students are guided by the WVJC support team.
From the moment you request information, you are connected to a WVJC admissions team member who will discuss your career goals and create a plan to achieve them. Your admissions team member will assist you through the enrollment process and be there to answer any questions you may have.
During your educational journey in one of WVJC's programs, our academic faculty and staff will help you gain fundamental knowledge through classroom instruction, hands-on skills through lab training, and essential experience through clinical rotations and an externship. Our small class sizes allow students to have more one-on-one interaction with instructors and get additional help when needed.
As you advance through your program, WVJC's skilled career services team will help you polish your interview skills and draft your resume as you prepare to enter the workforce. By offering students personalized support services, we are dedicated to helping each student obtain the tools needed to start a successful career. Our student services can include personal, academic, and career support, followed by a lifetime of refresher courses for our graduates.
Benefits Of Our Accelerated Programs
For many years, WVJC has offered students accelerated training programs that align with the needs of local employers. Currently, across all WVJC locations, the following programs are offered: Business Administration, Business Administration/Accounting, Business Administration/Human Resources, Clinical Medical Assistant, Cybersecurity, Dental Assisting, Healthcare Administration,  Information Technology, Medical Billing/Administration, Medical Coding, Medical Office Administration, Nursing, Pharmacy Technician, and Practical Nursing.
WVJC offers accelerated, 9-month diploma programs in Dental Assisting, Medical Assisting, and Medical Office Administration for students looking to gain the training necessary to start their careers more quickly.
WVJC also offers students in the Beckley, Huntington, Parkersburg, Martinsburg, Charleston, and Morgantown areas the option to take nursing classes in a hybrid-online format.
Unlike traditional schools, where students spend four to six years taking classes that may not be related to their field of study, at WVJC, students can take only the courses they need for their program and earn their degree in two years or less. This can provide an advantage since students will spend less time in school, be prepared to enter the workforce and begin earning a salary sooner than students who attend traditional colleges.
Why Is Hands-On Training Important?
Students at WVJC have the opportunity to practice their hands-on skills during classroom labs, clinical rotations, and a program externship. Upon graduation, you will have the hands-on skills and fundamental knowledge to excel in your career.
WVJC offers options for performing hands-on skills for students pursuing an online program. Our online Pharmacy Technician, Clinical Medical Assistant, and Dental Assisting programs offer weekend clinical days on several Saturdays during the program. These clinical days combined with virtual simulations, allow students to practice their skills and receive in-person support from instructors.
Our Online, Beckley, Huntington, Parkersburg, and Martinsburg nursing students will receive hands-on experiences supported by regional medical facilities and our one-of-a-kind Mobile Nursing Lab. Nursing students in these programs will learn the fundamental nursing skills in virtual classroom instruction and then apply their knowledge in clinical days throughout the program.
WVJC understands that gaining the necessary knowledge and hands-on skills will set our students apart in the workforce. This also helps show employers that they will be successful in their future careers.
Is Earning A Certification Worth It?
Earning a professional certification in your field can set you apart from your competitors when starting the job search. Obtaining the appropriate industry certifications* can show employers that you have completed the educational requirements and proven that you possess the skills and knowledge necessary for your career. Certain WVJC allied health programs offer certification exams through the National Healthcareer Association (NHA), a third-party certification agency that grants certification within the healthcare industry.
Combined with completing one of our accelerated programs in two years or less, earning the certification for your profession can give you a competitive edge in the workforce.
Start Your College Journey at WVJC!
Are you ready to take the next step toward bettering your future? Enrolling in one of WVJC's healthcare, nursing, or professional service programs will allow you to balance family and work while earning your degree. Our skilled admissions team is ready to help you begin the educational experience that will get you on a path to success. Start your journey by Requesting information today!
*Certification is contingent upon passing the corresponding industry certification exam.