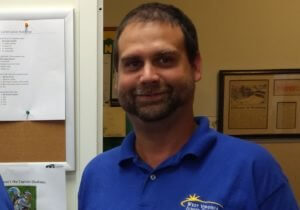 Jesse Pill is set to graduate in November 2017 with his associate degree in Information Technology. His excitement to graduate is obvious during his Career Prep course. Jesse attended Fairmont State University for two semesters after graduating from high school. However, he ended up leaving Fairmont State because he felt like the entire experience was overwhelming. Jesse, at that time, made the choice to start working in the coal mines to provide for his family.
After long days and nights, dangerous work, and being laid off a couple times within two years, he decided the mines were not the right fit for him anymore. Jesse made the choice to further his education and work toward a career involving computers, a passion of his. He chose to attend West Virginia Junior College in Bridgeport.  He says, "I made this choice for a few reasons. One, the flexible hours as far as class times, and two, for the smaller class size. I also enjoy the one on one time with the instructors." Jesse chose the IT program because of his passion for computers. It was also the program he started at Fairmont State after graduating from high school. He has always had a desire to be in the IT field and the IT program at WVJC-Bridgeport was the right fit for him at that time.
He says, "My favorite part of attending WVJC is all the new friends I have made. The staff is very nice and helpful. The whole atmosphere in general is pleasant." When I asked Jesse who his favorite WVJC instructor is, he couldn't pick. He said, "I have enjoyed all of my instructors, and the way they were all very helpful towards my education. The instructors here have inspired me to be a better person and professional in my career path."
A perfect day for Jesse is getting all of his work done and going home to his wife and children. He enjoys spending time with his family doing what he considers fun family activities. Jesse looks forward to graduating and having a career where he has evenings and weekends off with his family. Jesse's hard work and dedication paid off quickly, because he landed his ideal job in the IT department at a local hospital. In the next five years, he hopes to continue to grow as an employee and become established and successful.