An Innovative Approach To Nursing Training– On Wheels!
The WVJC School of Nursing has provided quality nursing education to students in West Virginia since 2012; now, thanks to the help of our Mobile Nursing Labs (MNL), WVJC can help bridge the healthcare gap and bring healthcare training to more West Virginians than ever. 
The nursing shortage in West Virginia, combined with the lack of access to healthcare training, has proved to be a challenge for students looking to become nurses. Through one of WVJC's hybrid-online Nursing programs, students will take didactic classes online and complete hands-on lab and clinical rotations at affiliated medical facilities and in a WVJC Mobile Nursing Lab.
What Is A Mobile Nursing Lab?
The WVJC Mobile Nursing Lab, or MNL for short, is a 38-foot RV configured to include two fully functioning patient care rooms for students to complete high-fidelity simulations. The simulation rooms include three CAE Healthcare mannequins for adult emergency, pediatric, and obstetric care. These customizable simulations prepare students for various medical situations and can be adapted to meet the student's learning needs. The MNL also has the capability to record audio and video of students completing simulations, allowing them to learn both in real-time and after the simulation has been conducted. 
"The goal of the Mobile Nursing Lab is to bring these skill checks and simulations out to our online nursing college students," said Brian Harris, WVJC Simulation Technician. "We can do a variety of scenarios in them, pretty much anything you could see in a hospital setting." 
A Unique Solution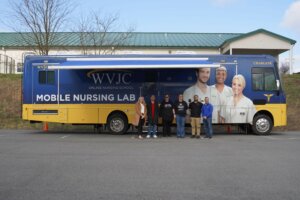 The use of simulations in healthcare training is not a new concept; however, the use of simulations on a retrofitted RV to meet the students where they are is. The WVJC Mobile Nursing Lab is the first of its kind in West Virginia. This state-of-the-art nursing training facility on wheels has gained attention from media outlets across the state, and one university in Canada caught wind of our innovative MNL.
The University of Regina, located in Saskatchewan, Canada, traveled to Morgantown, West Virginia, to tour the Mobile Nursing Lab in hopes of learning more about developing their mobile simulation lab. 
How The MNL Fleet Is Serving West Virginia
Now with three Mobile Nursing Labs to cover areas of West Virginia, WVJC brings nursing training to those who may not have access to healthcare facilities for training. The first mobile lab, Charlene, will allow students in Bridgeport, WV, and the surrounding areas to complete lab and clinical simulations. 
The second completed mobile lab, Florence, will serve students in the Charleston, WV, area and support students in the WVJC School of Nursing online Charleston Area Medical Center Nursing program. 
The third mobile nursing lab was created in collaboration with the Mon Health System through generous donations by Ron and Stephanie Stovash, The Health Plan, and the Hazel Ruby McQuain Trust. Appropriately named, the Ron and Stephanie Stovash Mobile Nursing Lab will serve as a resource for students in the WVJC School of Nursing at Mon Health nursing program. 
Want to see more of the WVJC Mobile Nursing Lab? Watch our virtual tour video here!

Take The Next Step In Your Nursing Journey!
Are you interested in becoming a nurse in West Virginia? Take the first step by contacting our nursing admissions team by Requesting Information today!