Life often presents twists and turns on our path to a career. With every decision, our path is bumped slightly in a new direction. Kali Moats's, CMA student at WVJC Morgantown and Student Government Association member, path to WVJC fits this mold. Kali attended a college prior to attending WVJC.  She felt she was "just a number" in that environment and ultimately did not continue.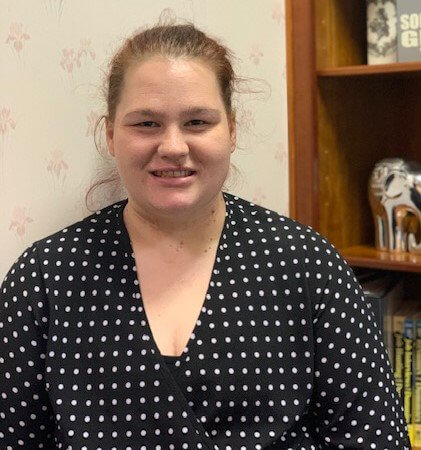 The decision to leave school lead her down a path that landed her where she is today. It was not always an easy one. Before attending WVJC, Kali found herself working at a state park and helping to take care of her father. While working at that state park, a coworker told her about WVJC. She decided to check it out. "I liked (that) they offered a smaller room setting, and the atmosphere was welcoming."
Kali chose the Clinical Medical Assistant program. She wanted to further her career in the medical field, and felt that this was the best way to do it. As a student, she loves her classes, but says her favorite part is the faculty and staff. "If I need help with anything from homework to just having a bad day, they are there and ready to help or be an ear and shoulder to lean on."
When asked who her favorite instructor was, Kali had a hard time narrowing it down.  "I cannot pick just one."  While she has enjoyed all of her instructors, there were two that stood out to her.  "Jessica Musgrove and Dustin Blankenship are ready to help (at any time). They make class fun to be in, (and are) a joy to around."
Kali said that her ideal job would be to work as a civilian with the US Army as a CMA or a phlebotomist. Her goals in the long term are to move to Virginia, become a parent, and "come (back) to visit the staff and faculty to show them how I am doing.  They are like my family."
If this experience sounds like something that you would like to see for yourself, head to wvjc.edu and take a look at our Clinical Medical Assistant program, or any of our offered programs.  You can also call the campus directly at 304-296-8282 or request info HERE.