Learn About Our Student Success Story of the Month, Keri Stire
Before enrolling at WVJC Online, Keri Stire worked at Ruby Memorial Hospital as a nursing assistant. According to Keri, this was "by far, the hardest job I've ever done." At this time, she started contemplating going to school for something but wasn't sure what to focus on. "I was working extremely hard, and the pay wasn't anywhere near what I wanted for myself and my family," said Keri. So, Keri began to look for opportunities to advance within the medical field.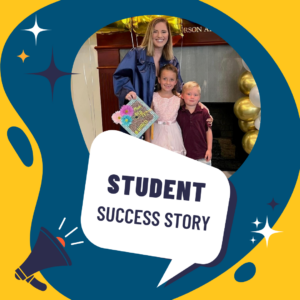 Keri chose WVJC because it allowed her to focus on the courses she needed for her degree at a fast pace. "I wanted to get in, grind it out, and finish as soon as possible," said Keri. She also wanted her schooling to be online because she was juggling a full-time job, her three children, and her husband.
According to Keri, "It was also a huge deal. I didn't have set times to be on video calls or anything like that. I wanted the most bang for my buck. I was in between 2 schools, but ultimately, WVJC was my best option. I could finish in 18 months, and I would graduate with an associate's degree and a certified professional coder credential. No other school offered both, and I was sold. It also was a huge deal that WVJC offered an externship for an entire semester!"
Keri stated why she chose Medical Coding as her program of study, "this is the fun part. This has everything to do with my husband. I never knew I had the option to go to college. I wasn't talked to about it as a young adult. I just assumed I couldn't do it because we were very poor growing up. I never looked into what you can major in, what jobs you could get, salaries, or anything." While Keri had previously attended a college near her home when she was younger, she noted that her motivations had transformed over time: "I went [to college] at 19, but it was right beside the house and more of just get out of the house kind of thing not let's actually go to college and make something of my life." Ultimately, it was her husband who convinced Keri "to look at every field there is," and so she did. "At 28 years old, I started with making a very specific list of exactly what I wanted out of a job. For me, that was, most importantly, working from home (because I have children in elementary school, and I've had to be that parent to send their kids to school sick because I didn't have any more days off to be with them because I was sick and used my time for that). I also wanted to be able to move up in the role, I wanted to one day be the boss, and I wanted to start off with decent pay and room for growth."
After evaluating many options, Keri eventually came across medical coding. She was sure to do lots of research on the program before contacting the school as well because she "wanted to be prepared and know what she was getting into." She discovered that "you can get endless amounts of credentials and each one can increase your annual salary, you can move up to auditor, lead, manager and beyond, it's a continued education constantly, and it really appealed to me, and I spoke to my family support system (including my husband and my mother-in-law who always volunteers to help with the children)." Ultimately, everyone agreed Keri should start the program, and they would give her all the support and encouragement she needed along the way. Keri began classes and started on her new path. Keri noted, "That was four years ago, and I still have my acceptance letter hanging on my wall today!"
Keri's favorite part of attending WVJC was the family environment within the institution. According to Keri, "I got Christmas cards and birthday cards every year. Every. Single. One. Of my professors was available at any time with questions. I never felt like I was on my own with no guidance on where to go or what to do. In one of my coding classes in the videos, we went over EVERY SINGLE PAGE in the CPT book and wrote tons and tons and tons of notes in it, and went over specific information about everything in it. It made me feel so prepared and like I really had a good understanding of how to code and guidelines. I don't care how old that book gets; I will never get rid of that one! Funny thing is, though, I don't use CPT codes for my job; if I ever switch, though, that book will be gold!"
Keri's favorite memory with WVJC was when she dealt with difficult times as a student: "I remember a few modules where I had classes that were just challenging for me, and I remember telling myself 'six weeks, six weeks, I can do anything for six weeks' so, pushing myself out of my comfort zone with those really helped me grow as a person. I wasn't going to give up, but I made myself push through. Six weeks of a class you don't prefer is nothing. So my memory is more about self-growth."
Now that Keri has graduated from WVJC Online, she is working as a Risk Adjustment Coder. Keri stated that she would absolutely recommend WVJC Online to a friend! "Absolutely! Anyone that comes to me with questions about coding, I send WVJC's way", said Keri.
Keri stated she has massive goals with her career. In 5 years she would like to become a manager of a team and also. Keri would like to return to WVJC as an instructor someday to teach risk adjustment coding courses. Keri would also like to continue her education and has signed up at The University of Phoenix for her Bachelor of Science in Management degree.
In Keri's spare time, she plays on an adult Volleyball team. Keri played when she was younger and loved being back on the court. Keri also enjoys doing do-it-yourself décor for her home.
Are you ready for a change or looking to advance your career? Discover our accelerated programs at WVJC Online by requesting information!