Meet Information Technology
Graduate Mark Hatten!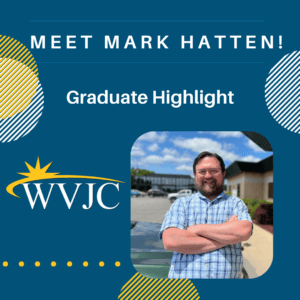 Mark Hatten graduated in June of this year. Mark attended a few schools before enrolling at WVJC. He started at Marshall, not knowing really what he wanted to do. He was only there for a semester and transferred back home to attend Southern West Virginia Community College for the next two years. He transferred to Concord College (now Concord University) for a while.
Mark said, "So, looking back on it, I was not in the right mental space during these years and wasn't doing great in certain classes. I wasn't being the most responsible young adult and was just enjoying being young. For this reason, and due to transferring schools so many times, it took me six years to get a 4-year degree. Ultimately, I ended up at WVU in 1998 and finished a degree in Psychology in 2000. So, I had my ups and downs and many learning experiences throughout my 1st go-round with college. I am still proud of it because I am the 1st person in my family to go to college, but at times I do wish I would have just attended WVU from the beginning. But, you never know, I may have never met my wife or the great friends I've made if I would have done things differently."
Before Mark enrolled at WVJC, he worked in the social services field for 15 years until he went to work at Mylan Pharmaceuticals. He worked there for six years before they went through a merger and the Morgantown plant shut down. They sent everyone's jobs overseas. So, they had to agree to pay for people to go to school to enhance their employment opportunities.
Mark stated, "I had a hard time choosing what I wanted to study. Some things never change, LOL. I had narrowed it down to a few things and then had some conversations with some friends that worked in the IT field, and they recommended getting into it. I looked around at the different programs, and WVJC seemed like a good fit and had a quicker program compared to other schools. I originally only knew of the Morgantown campus and didn't discover Bridgeport until researching online. It was about the same distance from my house, and I thought it would be way better as far as traffic and parking."
When asked why he chose the IT program, he stated, "Because computers and computer-related work aren't going anywhere. I wanted to pick something that I knew would always have work available out there somewhere. I'd always kind of had an interest but after the events of the Mylan shutdown and talking with some people that worked in IT, I went for it."
Mark's favorite part of attending WVJC is the small classrooms. It is a plus because it makes it easier to concentrate. But his absolute favorite part would have to be the hands-on activities; picking out your parts and putting a computer together was pretty satisfying. Mark enjoyed doing the physical hardware side of things but still liked the other stuff too.
Ms. Holyfield is Mark's favorite teacher because she is so nice, down to earth, and very relatable. You can converse with her and feel like you're talking with a friend. But my favorite class had to be the one he mentioned earlier, in which the class put their computers together. Researching all the different components and seeing how to combine them to make this machine run is pretty awesome. He also likes that no classes on Fridays help with scheduling many things in my personal life.
The class he was most excited about was the externship. He was excited to get the opportunity to gain real-world experience in the IT field. He likes that he will get the opportunity to talk with other people that are out there working in IT and see what their day-to-day life is like. Mark is currently completing his externship at the Marion County Board of Education. Mark has learned a variety of things at his externship, from imaging staff laptops to repairing Chromebooks and traveling to different schools in the county to assist with troubleshooting.
When asked what are your hobbies/special interests? Mark expressed his love for music. He still has a collection of tapes and CDs from his younger days, but he also listens to music through Spotify. He enjoys seeing live entertainment from live music, stand-up comedians, and theater. He also loves football, in particular the Pittsburgh Steelers and WVU football. He enjoys camping, hiking, biking, fishing, etc., with his family. He also has two cats and two dogs.
Mark's ideal job after graduation would probably be something like what he is currently doing at his externship. He feels like it would be a pretty great job. He would settle for a stable job that pays enough to enjoy life a little bit. He doesn't want to be married to a job because life is too short. But he also wants to make enough money to live comfortably and pay the bills and have enough to put a little into savings for fun and retirement. So, in five years, he hopes to be making at least as much as he was making when Mylan shut down…but we'll see.
Mr. Hatten would give advice to someone looking to start at WVJC: "Life is too short; go for it! You have nothing to lose and everything to gain. You're never going to look back and say that you regret getting more education."
Discover more about our accelerated programs by Requesting Information!