Maurice Faulkner is a student in the Network Administration/Security program at WVJC Charleston. Maurice picked WVJC because it was local and easily accessible. Maurice was interested in a career that is in high demand and included his love of technology and computers. Having heard the commercials for WVJC, he decided to schedule an appointment to see if this was the right college for him. Right away he noticed the friendly environment. "It just felt like it was the right choice." He learned that he could start on the path toward a career he was interested in and the environment was positive and encouraging.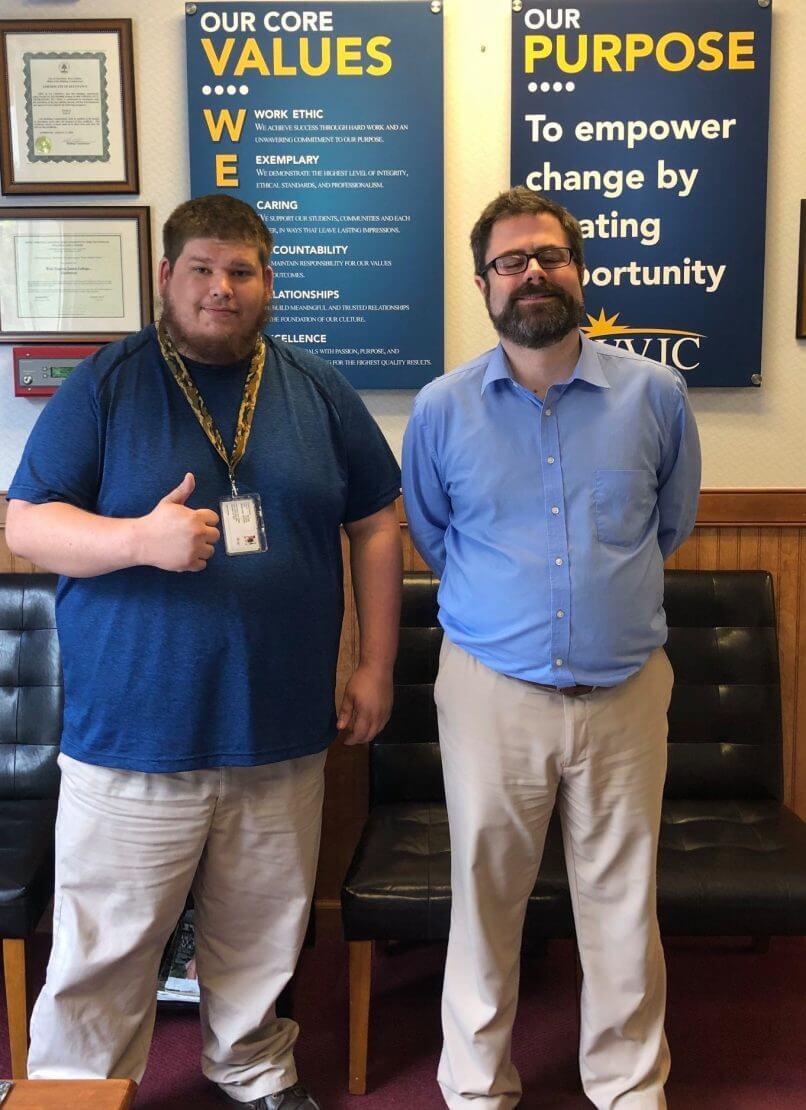 Maurice's interests include video games and working on computers. "I enjoy taking apart things and putting them back together while learning how they work," Maurice said.  His curiosity has fueled his career choice. Maurice said, "Technology jobs are moving into the future of day to day lifestyle." He couldn't be more on point with the high demands of IT professionals and the increasing developments in technology.  Our IT department offers an enriched experience that will prepare students for various IT positions and establish a mindset for growth.
Maurice speaks highly of his experience at WVJC and he enjoys the environment.  Like other students, Maurice feels that the WVJC faculty and staff really do care about student success, as evident in WVJC's core values. WVJC's core values include: work ethic, exemplary, caring, accountability, relationships and excellence (WE CARE). Maurice emphasized that he enjoyed this approach and other learning aspects WVJC promotes. Maurice wanted to recognize Instructor Bill Sigler and IT Director, Tom Pinkerton. "They have taught me a bunch. Whether it be computers or networking. I think they go beyond to help the students to succeed."
Maurice says "if anyone was wanting to better their life and start a great future on the path to success, then they should pick WVJC because it's a friendly college and the staff members are nice and professional. The teachers teach you many things at this college and if you pay attention, you will succeed."  Maurice is gearing up to complete his degree next year.
To other potential students, Maurice says to "Keep your head up and pay attention to what the instructors and directors have to say. Show up and get involved during the study groups. If your program has a club, help in the club. It's a good experience if you put your mind to it because the college is there to help anyone who is willing to learn." After graduation, Maurice wants to find a position in networking or computer repairs and then pursue a bachelor's degree in computer science.
Maurice has found the perfect way to integrate his past experiences and a passion for technology and computers. Maurice served as a firefighter for four years. Firefighters are equipped with problem-solving skills to tackle an emergency effectively and safely. Networking Administration/Security shares the same mindset as fighting fires. Maurice needs to see the smaller inner workings of the big picture to plan his approach. This is another example of a student focused on a career that incorporates his previous experience and interests.
Have you thought about a career that will not feel like a job? Have you had other adventures that can apply in finding your career? Find your next adventure with interest at www.wvjc.edu today!