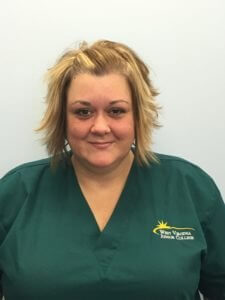 Jaclyn Raines enrolled in the Medical Assisting program at WVJC in 2016. She has always been interested in the medical field and was ready pursue a career in it! Before attending West Virginia Junior College-Charleston, Jaclyn was a cosmetologist and a full time mother. She chose to attend WVJC because of the flexibility and the option to do classes online or on ground.
When asked what her favorite part of attending WVJC was she said, "My favorite part is not only getting to pursue me degree in the medical field, but also meeting a great staff that felt more like family. I enjoyed every class and the knowledge I gained from each one. In five years I would love to be finished with my RN degree and established in a new home with my family."
For fun, Jaclyn loves going on adventures with her son and always enjoys pizza! Since graduation, Jaclyn has been working as a medical assistant at a clinic in the Charleston area and she loves it!
For important information about the educational debt, earnings, and completion rates of students who attended this program CLICK HERE.