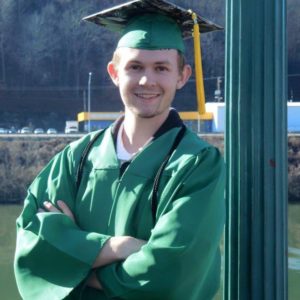 Logan Miller is a graduate of West Virginia Junior College Charleston's Medical Assisting program. He enrolled at WVJC after graduating from Lincoln County High School with high honors. At the time, he was working as a first responder, which was the determining factor in his decision to pursue his education in the medical field.
"When I began my studies at WVJC, my goals and ambitions were (and still are) larger than life. Thanks to the attentive, one on one training that I received from my instructors, I got my foot in the door of the medical field, where the sky is the limit.
During Logan's time at WVJC, he enjoyed Ms. Campbell's classes most. "She was so much more than an educator. She was truly my friend and never stopped encouraging me and pushing me do my best. Even after I left WVJC, she continued to let me know she was always there for me whenever I needed her."
After graduation, Logan started his career working as a medical assistant at a podiatrist office, and is now working in the Vascular Center of Excellence, side by side some of CAMC's finest surgeons. Being in the medical field has allowed him to continue on his quest to help others and has presented him with many opportunities that continue to grow each day.
Logan has this to say about his experience at WVJC, "Whether you land yourself a career or continue your education, this is a major step in the journey of life, one that would be recognized for its significance. It is an act not only of personal commitment, but also one of pride. A WVJC Degree is a wonderful tool in this world, one that will open many doors of opportunity for your future."
If you are looking for a new and exciting career as a Clinical Medical Assistant, request information today!