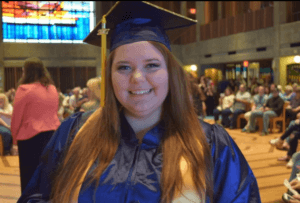 Samantha Murphy is a graduate of West Virginia Junior College Charleston. Samantha enrolled in the Medical Assisting program at WVJC after graduating from Clay County High School in 2015. She visited other schools but she loved how WVJC had a career focused schedule and loved that she would be done in 18 months! "The school schedule was awesome! Everyone at the campus was nice and helpful. I t was a very hands-on experience."
Samantha grew up knowing friends and family that worked in the medical field. She loved everything about it from a young age and has always been interested in learning new things. When asked about her favorite part of going to WVJC, she replied "I got really close with my classmates and the faculty there. Everyone was welcoming and friendly. My favorite class was lab!" Samantha had a lot of fun learning to draw blood. She loves Phlebotomy!
"My idea of a perfect day is going to work and seeing my lovely patients, then coming home to love on my fur baby, Paislee. My favorite food is anything with potatoes, but mainly cheese fries!"
Samantha is currently working for Clendenin Health Center (where she completed her externship for WVJC) as a Medical Assistant. She loves her job and her patients and wants to continue working in the medical field as long as possible. She also hopes to, one day, buy her dream home with her soon to be husband.
If you, like Samantha are looking for an exciting career as a Clinical Medical Assistant, request information today!