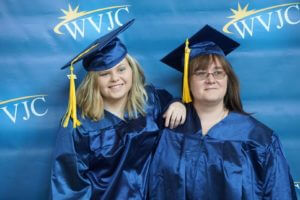 Like most loving mothers, all Melissa Wolfe wanted in life was to provide a better life for her daughter, Joyce. She wanted Joyce to have the opportunities that eluded her when she was Joyce's age. She wanted this for her daughter so badly that she didn't think twice when it came time for Joyce to start her Medical Office Administration program at West Virginia Junior College in Morgantown. Without hesitation, Melissa decided to make the necessary sacrifice for Joyce to succeed by driving the hour long commute from Oakland, Maryland to Morgantown every Monday through Thursday so Joyce could attend class. Little did Melissa know that her life was about to dramatically change as well.
Melissa settled into a routine. She would wake up early and get Joyce out of bed and then hit the highway. She would drop Joyce off for class and then she would decide how to kill time. Maybe she would go to Walmart. Maybe she would walk around High Street. Sometimes she sat in the car or in the campus student lounge.
It didn't take long for Matt Hahn, WVJC's Director of Adult and Online Admissions, to notice Melissa and inquire about her situation. "Matt approached me one day", said Melissa. "He invited me to explore some programs and take a look at the classes. He said, 'Why are you wasting time in the parking lot? Why don't you get some knowledge and training and earn a degree just like Joyce?' He was the one who gave me the courage to walk in the building and sign up for class."
Melissa took a leap of faith and soon she found herself in a college where the instructors and staff care deeply for their students. All it took was a slight nudge and she found a revitalized passion for learning and a yearning to start a new career. Along the way, Melissa built long lasting relationships. Kacey Eagle, MOA Program Director, encouraged her daily and helped her realize, "You're never too old to learn and believe in yourself. She made me see that I could do this and that I still had a few tricks up my sleeve!"
With renewed vigor and enthusiasm, Melissa became a dedicated and successful student. In just 18 months, she graduated and earned her specialized associate degree in Medical Office Administration and was able to walk across the stage with her daughter, Joyce, during their graduation ceremony.
Upon graduation, Melissa worked closely with Career Management Director, Samantha Esposito. They worked on her resume and interview training. She said, "Sam made a big impact in my life. She forced me to take the reins and take action. She gave me the confidence to get back out into the working world." With Sam and Kacey's assistance, Melissa is now working in an administrative capacity at a local hospital. While working, she has decided to enter WVJC's online Medical Coding program to further enhance her skill set and set herself up for even further career advancement. She achieved her goal of watching her daughter Joyce graduate and is now focused on her own career goals of securing a position as a professional coder and eventually becoming a medical auditor. It's safe to say that Melissa has come a long way from trying to decide how to fill a few hours while her daughter was in class, and is well on her way to an exciting career in the medical field.
For important information about the educational debt, earnings, and completion rates of students who attended the Medical Office Administration program CLICK HERE