Meet Nursing Graduate Najela Vallarta!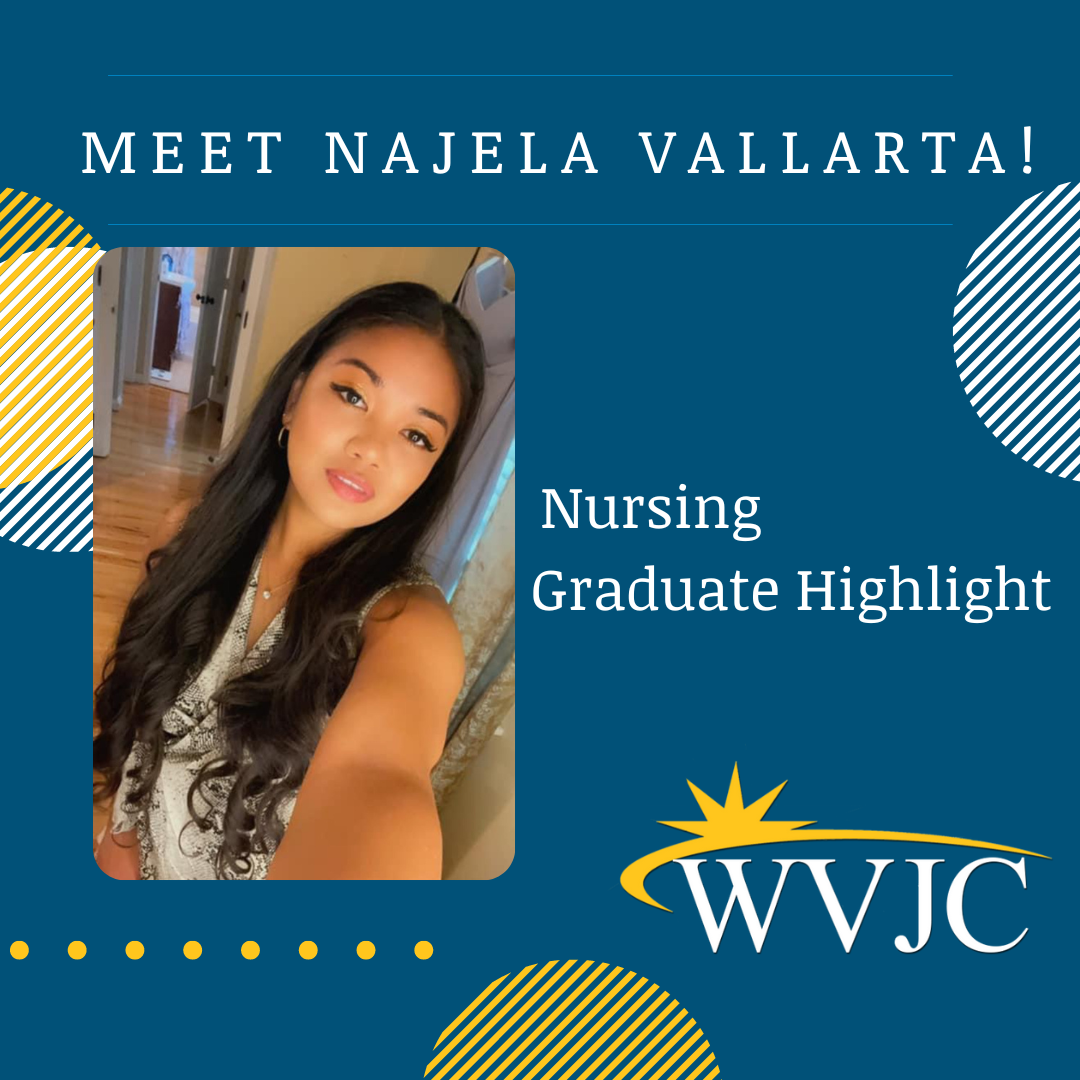 Najela Vallarta graduated from West Virginia Junior College Bridgeport on December 16, 2022, with an associate's degree in nursing. Prior to attending WVJC, she had just finished doing Molecular Genetics Research for WVU and decided to be a stay home mom/dog mom and concentrate more on her family.
Mrs. Vallarta-Mazurik attended WVU, where she studied and graduated with a degree in Biology and Chemistry. Najela had a great experience at WVU, where she made one of my best friends, Stephany Nti. She states, "It was very scary at first to be on your own in a college town with thousands of other people, but WVU taught me a lot about being independent, and I found a little bit about myself there."
When asked why did you choose WVJC? She stated, "because it offered the fastest track for nursing and it reminded me of an "all-inclusive" package which was very nice and decreased the stress load on students. I didn't have to worry about finding the resources I needed like books, review materials, clinical materials, etc. WVJC included all the things I needed to be successful in class and clinical."
Why choose nursing? "I chose Nursing because when I had my son, we were high risk, and we had a lot of complications during pregnancy, during labor, and even after he was born. During these times, the one thing I can remember is the nurses who ensured we were okay and in good hands, but I also encountered those nurses who failed us. This is why I decided to go to nursing school because I wanted to be one of those nurses that patients remembered making a positive change in their lives during their tough times. I also wanted to go into nursing because I want to contribute to help address major issues in health care similar to those that we encountered with our son and advocate for patients and make sure their concerns can be heard."
Najela's favorite part about WVJC is the relationships that she has made with her classmates and some faculty. Mrs. Vallarta-Mazurik stated, "I met some of the greatest/most fun people during my time at WVJC."
Dr. Gina Maiocco was her favorite teacher; she is an amazing instructor, an admired veteran, and an inspirational nurse. Critical Care class was her favorite, which Dr. Maiocco taught. During this class, they were able to do satellite rotation, where they were able to do clinical hours in ICU, ER, PACU, Cath lab, and do SIMS lab with Dr. Maiocco on campus. This was where the class learned to think critically, forcing them to apply the knowledge they learned in the classroom. Another reason this class was her favorite was because she was able to spend some time in critical care, where she discovered where she belonged…. "this is it, this is where I belong."
The course that Najela was most excited about was Critical Care because she is most interested in it.
Najela's ideal job is to be somewhere where she can be utilized her strengths, all while learning and improving her weaknesses. Her ideal job is also somewhere where she can openly think critically and outside the box and be constantly challenged and learn.
When asked where do you see yourself in 5 years? Mrs. Vallarta-Mazurik said she would like to still annoy her amazing husband, grow her family and her own food truck, and still work part-time as a nurse.
Najela will refer WVJC to a friend if they are ready to commit and put 100% of their effort in because this program requires a lot of time and dedication, where you will constantly think you're ready to give up. You will be provided with everything you need to succeed, but it will be up to you to utilize those resources.
Advice Najela would offer to someone who is looking to start school at WVJC is to make sure you know your strengths and weaknesses and utilize those to create good studying habits, and when you feel like there's too much on your plate at once, just take a deep breath and prioritize, prioritize, prioritize.
Najela said, "WVJC has prepared me for the future because it taught me a lot about myself and forced me to think critically and also taught me to always advocate for myself, my classmates, and my patients."
To learn more about our accelerated allied health and professional programs at WVJC Bridgeport, request information today!