Learn About Our Student Success Story of the Month, Natasha Anderson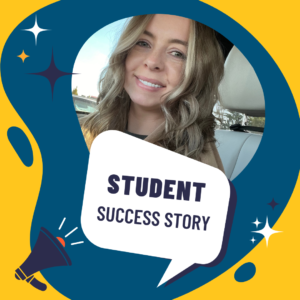 Natasha graduated in 2017 with a Specialized Associate's degree in Clinical Medical Assistant at the Bridgeport campus. She also took online classes through Pierpont Technical and Community College before applying to the Nursing program at WVJC. Natasha will graduate this December with an Associate's degree in Registered Nursing.
Before Natasha enrolled in the Nursing program, she worked as a medical assistant at an outpatient clinic. Natasha stated, "I chose WVJC because I had a great experience when I previously attended, and I liked that it was an accelerated program that I could do as a mom." She chose the nursing program because it has always been her main goal. She knew that being a nurse would help others and improve her son's life.
Her favorite part of WVJC has been making new friendships that she didn't expect to make. One of her favorite teachers is her clinical instructor Eva Clutter, and Natasha feels that she goes above and beyond for her students.
One of the courses Natasha is most excited to learn about is critical care. She thinks it would be a tough job to learn, and she believes it's an opportunity to help someone when they need it the most.
When asked what is your ideal job after graduation, Natasha stated, "I am still deciding what type of nurse I want to be, and I am really interested in critical care. In five years, I hope to have completed my BSN. I also hope to have a nursing job that makes me happy. If you ask my son, he says that my first goal is getting him a puppy."
Natasha stated that she referred one of her best friends to WVJC, and now they are in the Nursing program together. She also said that she would advise anyone looking to attend WVJC to keep going and don't give up on their goal of graduating. You should make sure to stay as organized as possible from day one, and you have to take the initiative if you want to succeed.
How has WVJC prepared you for the future? "I am hoping to be as prepared as possible to take the NGN after graduation. I am glad we are starting to practice the new question types with ATI.
Are you ready to begin your success journey? Request Information from WVJC today!