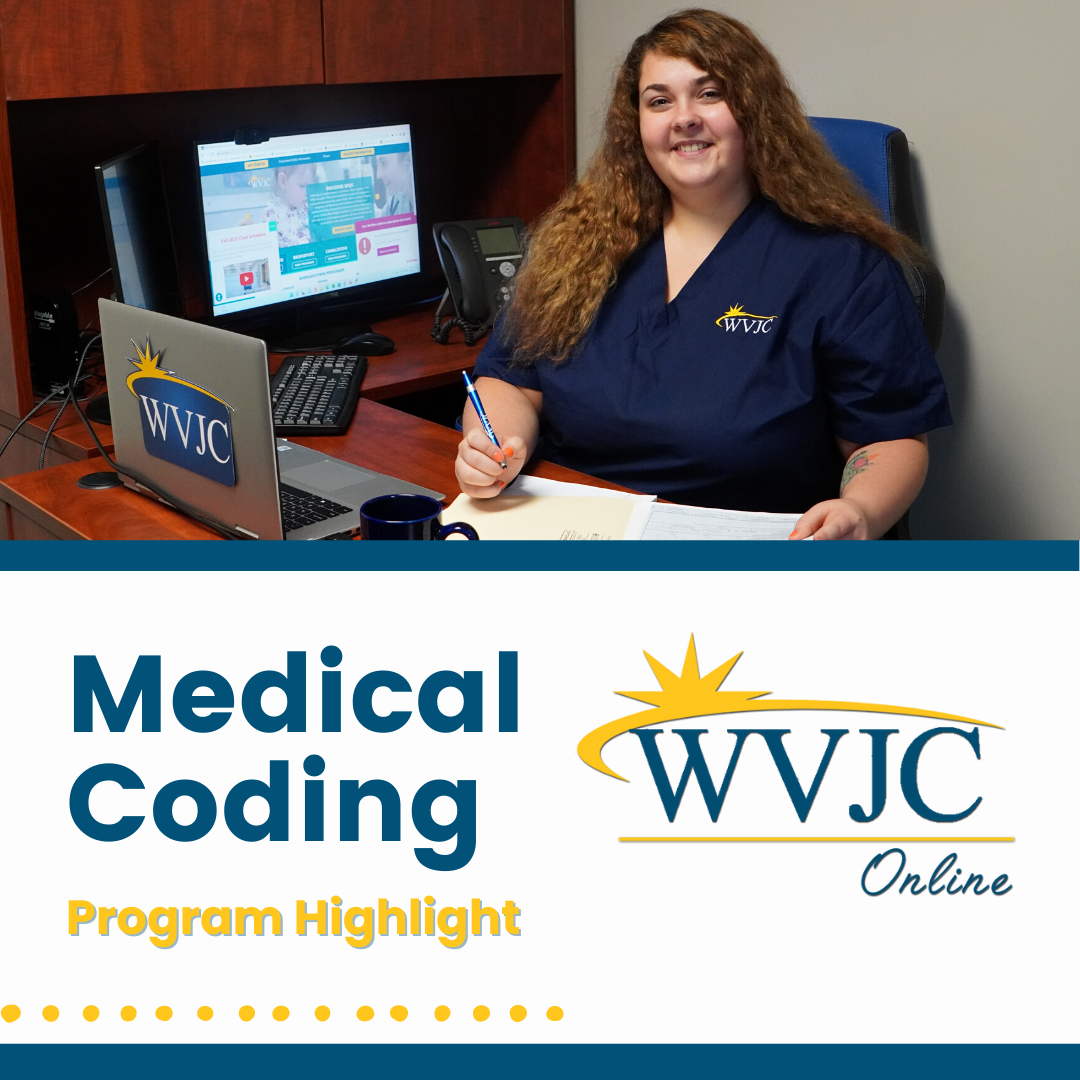 Updated on 10/24/23
West Virginia Junior College offers an online Medical Coding degree program that prepares graduates for a career in healthcare. In addition, to meet the increasing medical needs of an aging population, insurance companies continually update their claim processing procedures, creating more opportunities for medical coding professionals.
What is a medical coder?
Medical coders play a crucial role in the healthcare world and the daily operations of a healthcare facility. They serve as a connection between healthcare providers, patients, and insurance companies. Medical coding and billing professionals manage the transformation of healthcare diagnoses, procedures, medical services, and equipment into universal medical alphanumeric codes that insurers can use to process claims from patients. They verify and code diagnoses, procedures, and treatment results to insurers for reimbursement. Medical coders have opportunities to work in various places like hospitals, doctor's offices, and clinics.
How WVJC Online's Medical Coding program is different
Our online program offers many benefits for our students that make this investment into their future a worthwhile endeavor. Online medical coding students get a small online school atmosphere, flexibility in completing coursework, externships, career services, and many other benefits that assist our graduates in beginning their careers. Students are trained in various areas like CPT and ICD-10-CM coding, medical insurance, health information management, advanced coding/classification, and electronic health records.
"WVJC provided me with such a wonderful experience! The Medical Coding program allowed me to achieve my goals and have the flexibility to be a full-time mom. Every step I took, I had someone there to guide me, and help was always provided. WVJC became my family and, even after graduating, continues to guide and help me along my journey," said Cortney Warner, an August 2022 graduate.
Dr. Kacey Eagle, the Allied Healthcare Program Director, had the following to say about the Medical Coding program, "Our program is an 18-month accelerated program. As a benefit of the program, the Institution will pay for the cost of two attempts to sit for the Certified Professional Coder exam, which is the gold star standard for entry-level coding positions. The flexibility of jobs in the field is unique, especially among healthcare career options. Once you have some experience, there are many opportunities for advancing in your position, and the flexibility of making your own schedule or working remotely becomes a more viable option." Our online Medical Coding program prepares you to be career-ready in less than two years, and as a benefit of the program, the Institution will pay for the cost of two attempts to sit for a certification exam that can strengthen your appeal in the job market. That certification is the Certified Professional Coder certification exam.*
Ready to begin your journey as a medical coder?
Does a career in medical coding sound like the right path for you? To learn more about WVJC Online's accelerated online Medical Coding program, contact an admissions team member at 877-25ONLINE or Request Information today!
*Certification is contingent upon passing this industry certification exam. Required/Included in Tuition/Fees. The Institution's most recent pass rate (2022-23 academic year) on the Certified Professional Coders exam is 30%. See catalog for details.