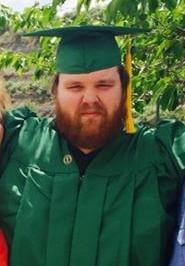 Timothy Moody started WVJC-Bridgeport's Pharmacy Technician program in June 2012 and graduated with his Specialized Associate Degree in December 2013. Timothy chose WVJC because he felt he could graduate and start a career a lot faster.
Timothy's passion for the pharmacy field came from his father, who was a Pharmacy Technician in the Navy. It is something he grew up around and found it very interesting.
He says, "My favorite part about attending WVJC was the hands on stuff, such as compounding and IV admixtures."  He has been working at the Rite Aid Pharmacy in Shinnston, WV for about two years now.
Timothy was asked what advice he had for future students. His response was "do your best and always put 100% into it." He would like to thank a couple instructors at WVJC, Ms. Mancuso and Mrs. Frye. "I wouldn't have been able to do it without them," he said.
Timothy's biggest supporter during his 18 months at WVJC was his dad. His dad always helped him with homework and encouraged him to push harder.