Meet Pharmacy Technician Graduate
Samantha Brown!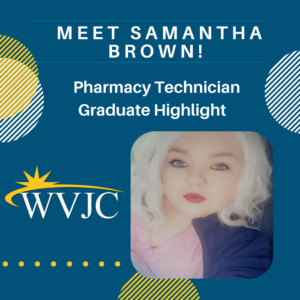 Before joining WVJC Online, Samantha Brown began attending a small community college right after high school completing her general studies. Samantha found herself and her daughter Scarlet at a crossroads in life. Samantha decided it was time to put herself and her daughter first and began researching programs at WVJC.
Samantha researched the Pharmacy Technician program and was interested in the program being online and was very interested in the possibilities that this program could provide." I choose Pharmacy Tech because of the job opportunities and the market of pharmacies never failing."
Samantha's favorite part about attending WVJC was having the online option and the helpful staff that made it a perfect choice for her. One of Samantha's most memorable instructors was Marcy, the clinical lab instructor. She personally showed Samantha that she cared and was just her being there made things less stressful. Samantha has referred many of her friends so that they can better themselves as she has through WVJC.
Samantha is currently working as a part-time Pharmacy Tech at the Town Pharmacy Care in Man, WV. Samantha is also giving back to the community and finishing her AmeriCorps Assignment. When her term is up, she will be looking to work full-time at the pharmacy. Long-term, Samantha's goal is to restart her and Scarlet's life in Tennessee and work full-time as a pharmacy technician.
Are you looking to pursue your educational goals? Does a career in healthcare sound like a good fit for you? Get started today by requesting information from WVJC!