Meet WVJC Staff Member Stacy Fouse
Stacy Fouse is a graduate of Bridgeport High School, Class of 2005. Stacy attended West Virginia Junior College– Bridgeport in 2006 until she relocated to Pennsylvania. Stacy began her career at WVJC in January 2023, and we are thrilled to have her as part of the family.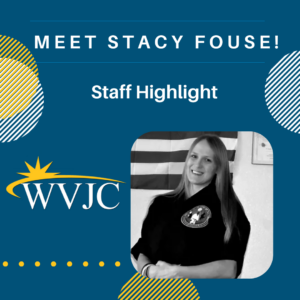 When asked what attracted her to the position at WVJC, Stacy said, "I wasn't looking for a job at the time, but it was offered to me, and I couldn't say no." Stacy enjoys her schedule at WVJC and loves having weekends and holidays off with her family, which still allows her to continue teaching at er Marital Arts School/Dojo in the evenings.
Her favorite part about working at WVJC is her co-workers. "Everyone here really is a big family. I've felt comfortable and welcome since day one." It is Stacy's long-term career goal to retire from WVJC.
Stacy's day-to-day work entails answering the phone, filing documents, ordering office supplies, checking shipments, logging attendance, scanning textbooks, and answering emails.
Stacy's prior work experiences can be summed up as a little of everything. She has worked as a Manager for Kay Jewelers, a bartender, a server, a restaurant manager, and a house cleaner. She is a full-time staff member, registrar, and library assistant at WVJC, a martial arts instructor, a homeschool mom, and a part-time Wine Guide at Traveling Vineyard.
Stacy is most proud of her family. She has two children, Gage, age 12, and Edith, is 2. They both enjoy spending time at her dojo with her, and little Eddie loves to help with the warm-ups. She also keeps the kids on their toes. Gage also participates in Marital Arts and helps teach the 3-6-year-old classes. Her boyfriend Jason assists her with the 7-year-olds and up.
If you want to hire our WVJC graduates, please inquire about more information here!