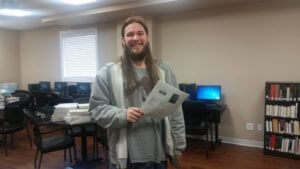 The formula is simple.  When you combine passion and intelligence with drive and work ethic, the result is success.  Since Bobby Viands enrolled in West Virginia Junior College's Network Administration/Security Program in January of 2017 that's what he has experienced . . . Success!
Bobby's story isn't unusual.  There's been challenges and setbacks.  After completing his senior year of high school, like many students, he decided to attend a traditional 4-year institution. Bobby had a fairly positive experience, but something was missing.  "It was a fairly nice place, but it lacked relationships.  I didn't feel like there was anyone there who was in my corner," he said.
While attending the four year institution, Bobby also encountered life adversity.  There were trials and tribulations.  These struggles included the grief caused by several deaths in his family and the impact those deaths had on a family dynamic.  Bobby needed a change and a fresh start, so he headed to Morgantown.
Bobby realized that he needed a source of income so he secured work at a local call center.  While working he rediscovered that his passion in life was computers. He had previous exposure to computers while in high school. Bobby knew that he wanted to earn a degree that would make his parents and grandparents proud, but he wanted to do it on his own terms.  He began searching for the right environment, where hands on experience was as valuable as lectures.
Bobby found WVJC.  He was familiar with the campus from spending time in downtown Morgantown. He realized there was a career enhancement scholarship available to WVJC through his employer TeleTech.  He dove into the program head first while enjoying "the downtown atmosphere with the smaller college setting."  He has also excelled in the classroom working with IT Program Director Robin Addis on a daily basis.  He said, "She really sees my potential, gives me a lot of responsibility, and believes in me."  The results can be seen through his academic progress.
There has been sacrifice involved.  Bobby is busy, but in his mind being busy equates to productivity and a sense of accomplishment.  He attends class from 8a.m. until 12 p.m. and then spends more time in the computer lab honing his craft.  From there it's off to work from 3:30 p.m. until midnight.  The dedication has already paid off as Bobby has earned his CCENT Cisco certification and is in the process of obtaining three additional certifications which include the A-Plus, CCNA, and Cisco Security.
Bobby has a plan and a vision. He knows the effort he exerts now will be rewarded in the future.  In the coming years he anticipates utilizing his degree and certifications in the area of network and server administration.  He wants to assist the community by contracting with small businesses to launch their computer networks.  It is a dream that seems quite obtainable for a young man who has embraced his education with such determination.