Can you imagine waking up for work in the morning and the entire server you work on is on a complete blackout? What do you do? Who do you go to for solving these issues?
IT Certifications*
Working in IT isn't always a walk in the park. Support professionals have to manage multiple systems and support today's core technology advancements, they keep our networks up and running and ensure the security of a business's data and information, just to name a few things.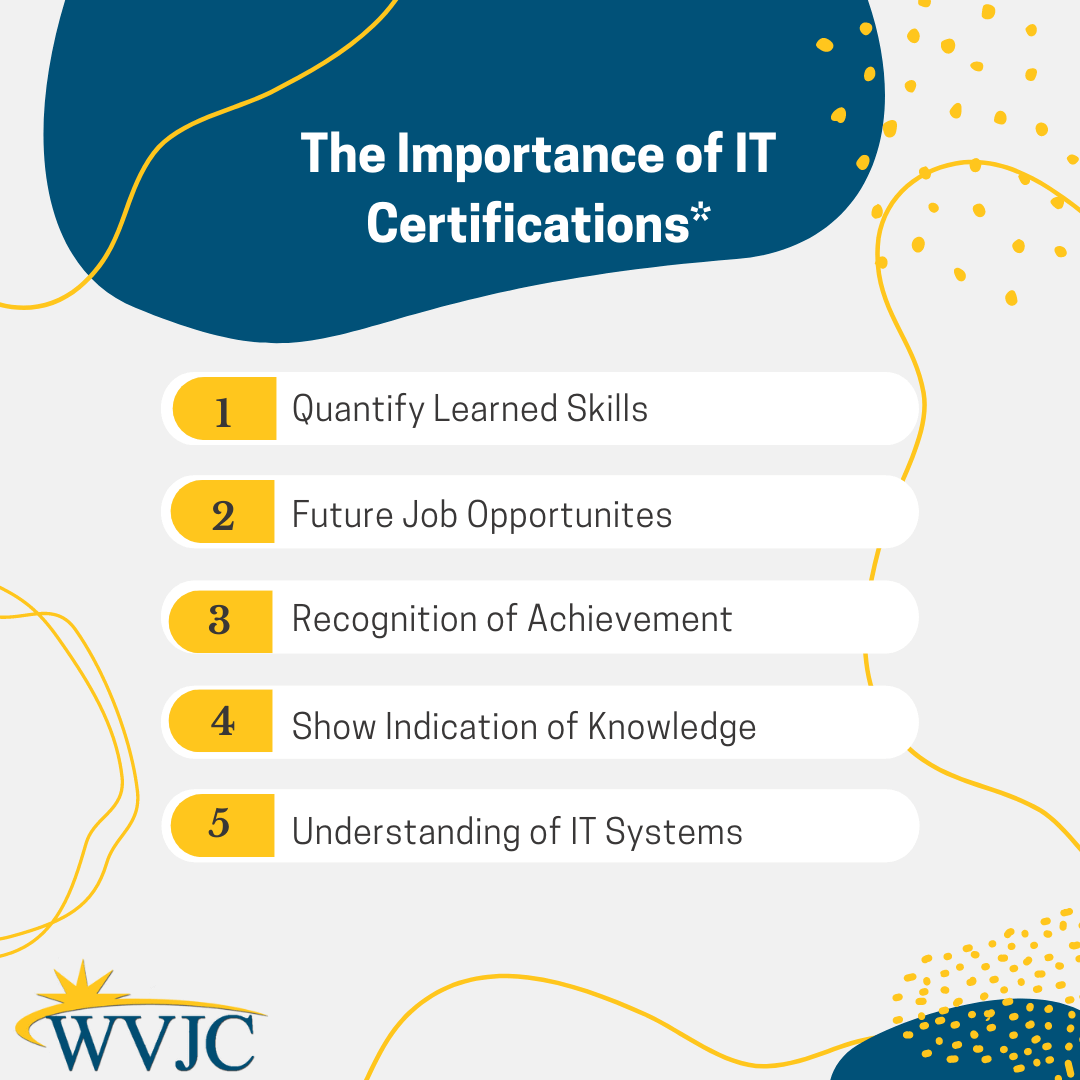 From diagnostics and troubleshooting to network security, students in the Information Technology program at West Virginia Junior College learn many of the skills required to truly be the backbone of a business. But after taking all of those classes, is it really so important to get certified too?
In short, the answer is yes. Certifications* can give students, and future job candidates, a chance to test on some of the much-needed skills which in turn gives employers an indication of the knowledge they have retained from their program, especially since many of the students are early on in their IT careers.
IT and Cybersecurity Program Director Robin Addis couldn't stress enough how important all of the different certifications are. "Certifications can test on a variety of things and really they quantify all the skills you learn during the program," said Robin.
Why Attend WVJC's IT Program
But why attend WVJC's program? Robin believes that "one of the biggest differences between our IT Program and other schools is that we truly care. We create a personal relationship with each student and work with them hands-on through every step of their program."
Sitting down to take a certification* can be intimidating for some, but WVJC works hard with their students in both the diploma and the degree programs to prepare them beforehand. Additionally, WVJC will pay for a student's first attempt at a certification*, but if a student is unable to pass the first time they are able to retest thirty days later on their own dime.
"If a student doesn't pass their certification* we don't just wipe our hands of them. We ask how close were they. We create a plan of action and we review together," said Robin.
While there are a number of certifications* Information Technology students can take to make themselves stand out, like Cisco certifications, CCNA certification, CCENT certification, Network+ certification, Server+ certification. Becoming a CompTIA A+ certified professional is considered an industry standard for anyone working in the IT field. The CompTIA A+ Core Series requires candidates to pass two exams: Core 1 (220-1001) and Core 2 (220-1002) and it tests for mastery on a variety of skills including software troubleshooting, security, operating systems, and operational procedures.
Information Technology Field
The field of IT has the potential for growth with the advancements in technology, thus the expectation is that those working in that field would need to continue their education even after receiving a job in order to keep up to date with industry standards. But one positive that can come along with receiving certifications* is that it can help graduates and job seekers to achieve their next step in their careers. That could mean a new job opportunity presenting itself. For some though, sometimes it is just nice to have a refresher on certain skills that may not be used in their current role.
Discover how you can receive hands-on training as part of the WVJC Information Technology program by requesting information here!
*Certification is contingent upon passing the corresponding industry certification exam.