West Virginia Junior College partners with local hospitals, businesses, and organizations in the Charleston area to provide students real-world experience through externships. Students complete these externships during the last twelve weeks of their program. Externships are a great opportunity for students to network with in-field professionals and gain valuable career-focused experience.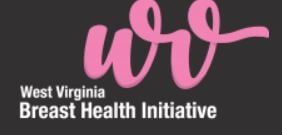 A recent business administration graduate, Telicia McClleland, had the opportunity to complete her externship at West Virginia Breast Health Initiative (WVBHI). The mission at WVBHI is to raise awareness and fund breast cancer programs. All fundraising efforts remain in West Virginia to assist uninsured and under-insured residents with breast cancer screenings and treatment.
During Telicia's externship, she assisted in developing and implementing marketing strategies, utilized reports to maintain data, interacted with the public, and helped with other daily duties. Telicia said, "WVJC could not have found a better fit for me. I love working for WVBHI and I have learned so much." Because of Telicia's hard work during her externship, she was offered the Mission Coordinator position with WVBHI. Telicia said, "I really enjoy my job and the difference we made in people's lives."
WVJC is thankful for organizations like WVBHI who allow students to gain professional experience during their externship. If you are interested in earning your education to start your career, contact WVJC today at 304-345-2820 or click here.