Are you someone who is looking for a healthcare training program? Are you looking for a program that provides valuable training through classroom development, hands-on training, and an externship while helping you prepare for industry-specific certification* exams? If you answered yes to any of these, then West Virginia Junior College may be for you!
Continue reading to find out why a healthcare program that prepares you to take your National Healthcare Association (NHA) certification exams is essential!
What is the National Healthcare Association?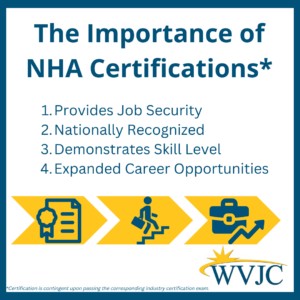 The National Healthcare Association, founded in 1989, awards certifications to healthcare professionals. Since its inception, the NHA has awarded over one million certificates across the United States in eight different fields that, including:
A clinical medical assistant is responsible for assisting healthcare professionals in clinical settings by performing tasks such as taking patient vital signs, preparing examination rooms, collecting and processing specimens, and providing basic patient care.
A pharmacy technician supports pharmacists in filling medications and providing pharmaceutical services by assisting in prescription processing, managing inventory, compounding medications, and providing customer service.
A phlebotomy technician specializes in drawing blood from patients for medical testing, transfusions, or donations and ensures proper labeling and handling of blood samples to maintain accuracy and patient safety.
A medical administrative assistant handles various administrative tasks in a healthcare setting, such as scheduling appointments, managing patient records, coordinating communication between healthcare professionals and patients, and handling billing and insurance-related matters. They ensure that operations run smoothly and support the efficient functioning of the healthcare facility.
An EKG (electrocardiogram) technician specializes in conducting diagnostic tests to measure and record the electrical activity of a patient's heart using an EKG machine, assisting in detecting and diagnosing heart conditions. They ensure proper electrode placement, operate the EKG equipment, and provide accurate results to healthcare professionals for interpretation.
An electronic health records (EHR) specialist is responsible for managing and maintaining digital patient health records, ensuring data accuracy, privacy, and security. EHR specialists also assist healthcare professionals in accessing and utilizing electronic health information for efficient patient care and treatment planning.
A billing and coding specialist assigns appropriate codes to medical procedures and diagnoses, ensuring accurate and timely submission of insurance claims and facilitating the financial reimbursement process for healthcare providers while adhering to coding guidelines and regulations.
A patient care technician provides direct care and assistance to patients in medical settings. Some possible tasks include monitoring vital signs, assisting with personal hygiene, collecting specimens, administering basic treatments, and offering emotional support to patients under the supervision of healthcare professionals.
Why are NHA Certifications important?
The National Commission for Certifying Agencies (NCCA) recognizes NHA's certification exams. Being recognized by the NCCA proves that the certification exams have met national standards for each healthcare industry. As a result, anywhere from 75% to 92% of employers, with the percentage varying depending on the field, require or encourage NHA certifications for potential employees. Due to the large number of employers who recognize NHA certifications, obtaining them, along with your diploma or degree, can show an employer that you possess the knowledge and skills to wholly and confidently perform your job.
You may also gain an advantage over your peers who have yet to earn a certification by earning industry-specific certifications. When your degree or diploma is combined with your NHA certifications, the two could provide you with career opportunities, financial stability, and job security.
How To Prepare For NHA Certification Exams
In addition to your in-class training at WVJC, it is important also to prepare independently. The NHA's website provides free test plans for each profession. NHA also has a mobile app for both IOS and Android with flashcards and a content mastery tracker. At the end of the day, one of the better ways to prepare is to use whatever works for you. 
How West Virginia Junior College Can Put You Ahead
Students at West Virginia Junior College will be put through a program that provides valuable training through classroom development, hands-on training, and an externship while helping them prepare for industry-specific certification* exams. These real-world skills will be helpful when you begin your career.
Current students and WVJC alums will have access to our Career Management Services. Career Management Services helps students land an externship, prepare for their careers, and provide support while they're students and post-graduation.
How To Get Started On Your Journey Today
Begin your journey towards a better future by requesting information for one of WVJC's accelerated healthcare programs today by contacting the admissions office or Requesting Information!
*Certification is contingent upon passing the corresponding industry certification exam.