Have you been considering attending a medical assisting training program? Medical assistants are versatile and valuable healthcare team members that help with the daily flow of medical offices. Continue reading to learn more about why choosing one of WVJC's medical assisting training programs can benefit you and your future career!
Program Options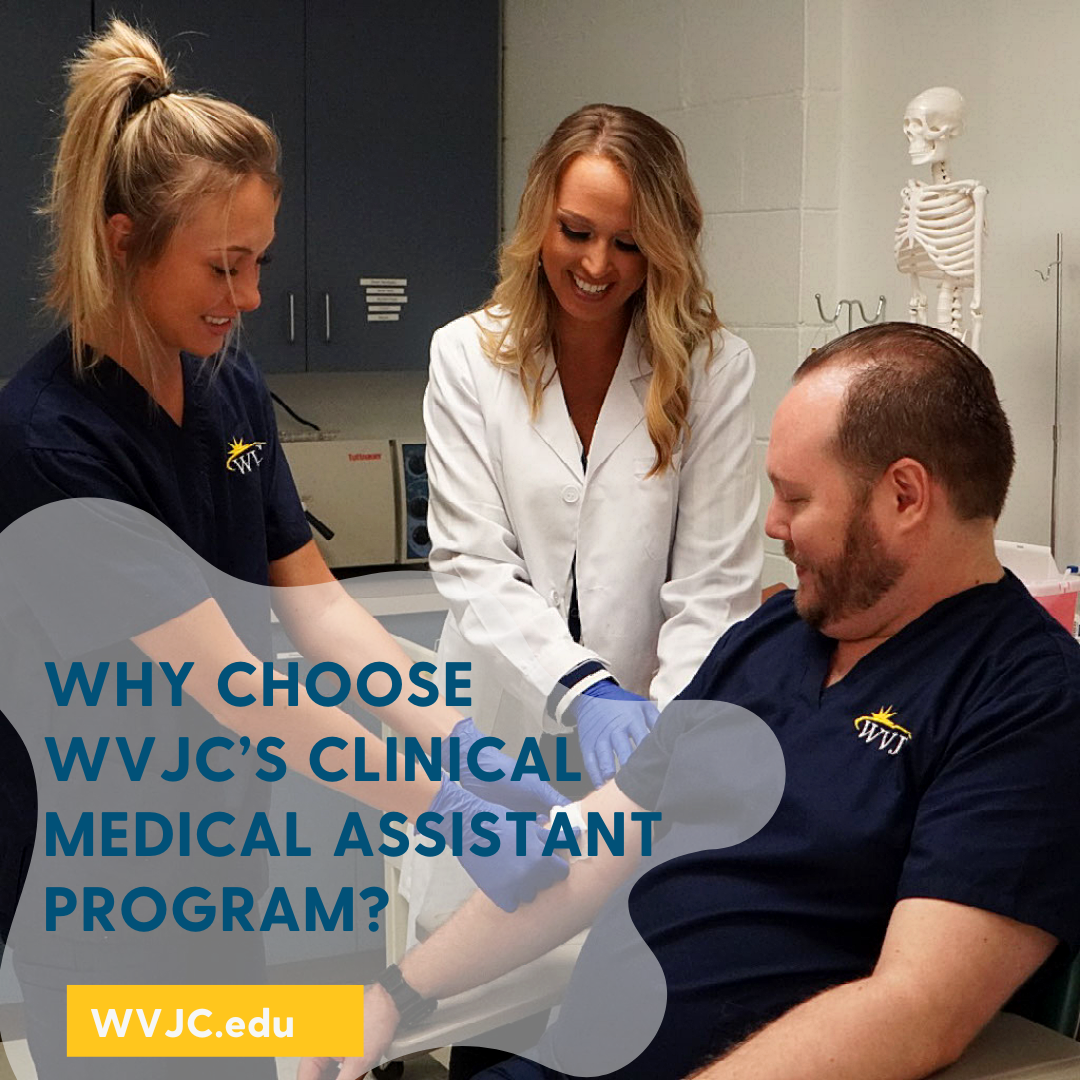 As a WVJC student looking to enter a Clinical Medical Assistant program, you have options based on your individual needs. Students near Morgantown, Bridgeport, and Charleston, West Virginia, can take classes in a hybrid modality and lab experiences at our WVJC campuses. Additionally, students pursuing the residential program option can expect one-on-one instruction in a small-school environment.
Students located in other areas of West Virginia or surrounding states can complete our online Clinical Medical Assistant program. Students in this online program will complete classroom instruction and simulation experiences virtually, then complete three Saturday clinical days throughout their program at designated locations across the state. 
Students looking to complete the training at an even more rigorous pace so they can begin working in the field sooner can pursue WVJC's accelerated 9-Month Medical Assisting diploma program. This program is offered at our Bridgeport and Charleston, WV campuses, and allows students to gain the fundamental skills and certifications* they need to enter the workforce in less time.
What You'll Learn
As a student in a residential Clinical Medical Assistant, online Clinical Medical Assistant, or 9-Month Medical Assisting program at WVJC, you'll gain the skills and hands-on experience that will enable you to care for patients in your career successfully. You can expect to learn medical terminology, anatomy, physiology, and other medical foundation concepts. In addition, during valuable hands-on lab experiences, students will gain confidence in performing various skills, including checking vital signs, performing lab tests, conducting eye exams, practicing phlebotomy, and more. 
Students in these programs will also be trained in front-office management, including processing insurance claims, transcribing medical charts, practicing HIPAA procedures, and managing a medical office. As a result, our graduates who complete their medical assisting training will become well-rounded healthcare professionals with skills that are valuable to local employers.
Future Career Opportunities
As the healthcare industry continues to grow and evolve, so do career opportunities for those trained in the field. Healthcare employers need to hire qualified candidates with the skills, training, and experience to do the job well.
Earning a Specialized Associate Degree or Diploma from WVJC can prepare you for your new career as a medical assistant. WVJC alums enter the workforce with valuable skills and experiences that can be applied to positions in hospitals, doctor's offices, clinics, blood banks, long-term care facilities, and more. 
Students in WVJC programs will complete a hands-on externship with a local healthcare facility, allowing them to build meaningful connections with employers and gain beneficial experience in the field before they graduate. 
Earn Professional Certifications
Choosing a program that prepares you to sit for industry certification* exams can help to put your career on an accelerated path. Earning certifications shows potential employers that you have met standards set by the National Healthcareer Association (NHA) and are a qualified candidate. 
As technology advances and best practices evolve, earning healthcare certifications can help you stay current in the medical field. Because certifications are preferred by many employers, earning them can open career doors and give you an advantage over the competition.
Students in WVJC's online Clinical Medical Assistant, residential Clinical Medical Assistant, and 9-Month Medical Assisting programs will prepare to sit for several NHA certifications, including Certified Clinical Medical Assistant*, Certified EKG Technician**, and Certified Phlebotomy Technician**.
Ready To Get Started?
The success of our students is our top priority, and at WVJC, our faculty and staff strive to create an educational environment that allows each student to reach their goals. Our unique academic approach of hands-on training and personalized attention, combined with academic advising and career management services, provides students with the support they need to be successful at WVJC and beyond. 
Are you ready to take the next step in your career? By requesting information for one of our medical assisting training programs, you can start your path to becoming a valued healthcare worker!
*Certification is contingent upon passing the industry-specific certification exams. Required/ Included in tuition/fees.
**Certification is contingent upon passing the industry-specific certification exam. Optional at own expense.