WVJC Bridgeport Welcomes
Guest Speaker Hannah Smith!
Ms. Cummings's Introduction to Clinical Procedures 101 and her Clinical Medical Procedures 203 classes welcomed a guest speaker, recent WVJC clinical medical assistant graduate Hannah Smith. She is currently working as a pharmacy tech at CVS Pharmacy as she waits to start the Practical Nursing program in January 2024.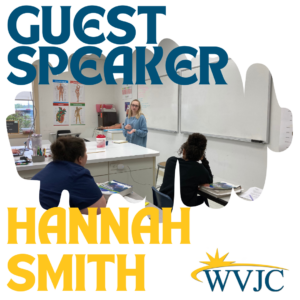 Hannah spoke about her experiences as a pharmacy technician vs. a medical assistant student and how they are similar practices. She discussed important things to know going into externships, vaccines, how to calculate height and weights in KG and CM instead of inches and pounds, basic vital signs, and what to listen and watch out for. She explained why she cares about being a medical assistant and discussed billing and coding procedures and how it's used in the office setting.
The Introduction to Clinical Procedures class played an interest in why Ms. Smith wanted to become a medical assistant. Ms. Smith replied, "During the COVID pandemic, I lost my job. By the time we reopened, my business eventually had to shut down. With no help from all the layoffs and lack of business, nobody could afford to run the business anymore. This is where I began to look for new jobs, and it was the moment when I started dreaming of a career where I could help people.
As I graduated high school in the most unrealistic way I could've ever imagined…outside, with a mask on, in the pouring rain, lips turned purple, and not even my own brother could watch me walk that stage and earn my diploma, this was when I decided that I needed to help my community now more than ever before. This is when I knew that I wanted a future career in healthcare. With many previous family members of mine becoming doctors, nurse practitioners, nurses, and even medical assistants, I knew this was a path destined for me. This was the turning point in my life where I just happened to discover WVJC and how I knew it would be a right fit for me.
After meeting with many instructors and orientations, I knew this was what I needed to do. So, in May of 2021, I was accepted and enrolled in WVJC's Clinical Medical Assistant program, which was to start in August of 2021. During this free gap time I had, I took on a full-time job opportunity at CVS Pharmacy as a pharmacy technician trainee and earned my hours to become a Certified Pharmacy Technician.*
Being a pharmacy technician allowed me to live my life, adjusting to my needs with my school schedule and externships while also allowing me to provide for myself now that I am on my own as an adult in today's world. As a pharmacy technician, I have acquired many skills that one would need in the healthcare field, such as using electronic health systems, learning medications, both generics and brand names, dosages and interactions, as well as learning many parts of insurance that many typically do not know about.
In February of 2023, I graduated as a Certified Clinical Medical Assistant* and will thus continue my healthcare career with WVJC in the Practical Nursing program to one day further my education in becoming a Registered Nurse. This is a career that I thrive in. Working now in the field as a pharmacy technician alongside earning my certification* and skills that I needed to become a medical assistant has only made me realize that this is something that has meant so much more to me."
To change your future today, contact a WVJC admissions team member by requesting information!
*Certification is contingent upon passing the corresponding certification exam.