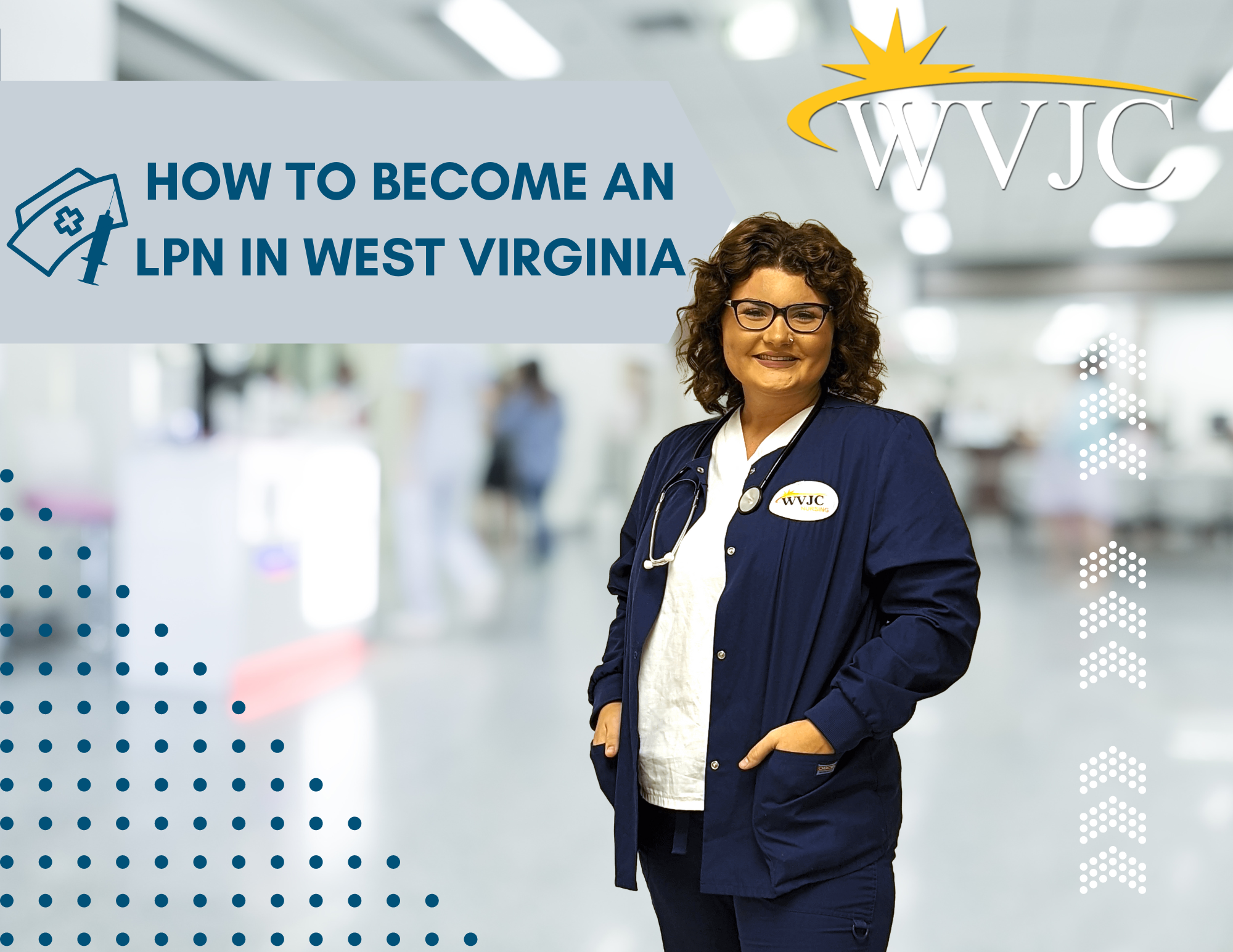 Have you considered a career as a licensed practical nurse (LPN) but aren't sure of the steps to get started? At WVJC Bridgeport, we will help you through the process of enrolling in school and starting your new and exciting career.
Continue reading to learn more about how you can achieve your goal of becoming an LPN with the help of WVJC!
Reach Out To Our Admissions Team
The first step in starting your educational journey to becoming a practical nurse is to research institutions offering a Practical Nursing program and how the school can fit your life. Each school has slightly different requirements, so it is important to determine your needs and how the institution can meet them. 
The WVJC Bridgeport nursing admissions team is prepared to assist you through the admissions process, including an individualized meeting in person or virtually. During this meeting, you will receive a thorough overview of the college and a tour. Take the next step in the process by contacting our team by requesting information. 
Taking The TEAS Exam
Next in the enrollment process in the WVJC Practical Nursing program is to take the Test of Essential Academic Skills (TEAS) exam. This standardized exam tests a student's comprehension and readiness to enter a healthcare field. Most institutions require it for admission to a nursing program. Students are given a series of 170 questions in mathematics, science, English, and language. 
It is recommended by the creator of the exam, Assessment Technologies Institute (ATI), that students begin preparing for the TEAS exam at least six weeks before taking it. The WVJC Bridgeport nursing admissions team can provide you with resources to help prepare for the exam, including access to an Online TEAS Prep Course offered through WVJC. 
WVJC Bridgeport's Practical Nursing Program
Once admitted to WVJC's Practical Nursing program, students can expect to begin taking courses directly related to their nursing training immediately. Throughout the program, students will attend classroom instruction at our campus in Bridgeport, West Virginia, then apply the skills they learn in the classroom during hands-on lab experiences supervised by experienced nursing instructors. In addition to this hands-on training, students will also gain real-world experience by completing clinical rotations at local area hospitals and medical facilities. As a result of WVJC's accelerated, hands-on approach to nursing education, students will feel confident in their nursing abilities and be prepared to sit for the National Council Licensure Examination for Practical Nurses (NCLEX-PN)* exam.
Passing The NCLEX-PN* Exam
WVJC Bridgeport's Practical Nursing program curriculum includes essential preparation for the NCLEX-PN* exam. This exam reflects a nurse's ability to work in the nursing field safely and competently by evaluating their answers to questions in the following four client needs-based sections: Safe and Effective Care Environment, Health Promotion and Maintenance, Psychosocial Integrity, and Physiological Integrity.  
Working As A Practical Nurse
Licensed Practical Nurses are valuable healthcare professionals whose skills allow them the flexibility to work in numerous areas of the medical field, including doctor's offices, hospitals or emergency rooms, home health agencies, nursing homes, and more. Regardless of the medical setting, an LPN chooses to work in. They will work closely with registered nurses, doctors, and nurse aides. In addition, they will likely work directly with patients. 
Continuing Your Education
Becoming an LPN can be a great way to complete schooling and enter the workforce quickly, allowing nurses to gain valuable work experience and financial stability. For graduates who decide to continue their education, WVJC Bridgeport offers a Practical Nursing to Registered Nursing Pathway option, allowing these alums to continue to registered nursing training without needing to retake the TEAS exam for entry to the Registered Nursing training program.
Additionally, registered nurses looking to expand their nursing education further have the option to complete WVJC Online's RN to BSN program, allowing them to earn a Bachelor of Science in Nursing (BSN) degree in only twelve months. 
Ready To Get Started?
A career in practical nursing is a great option for those looking to make a difference in a patient's life, and that also provides opportunities for advancement. So get on the fast track to your new career and contact our nursing admissions team by calling 304-842-4007 or Requesting Information.
For more detailed information about starting a career in Practical Nursing, download WVJC's free 22-page practical nursing career guide!
*Passing the NCLEX-PN exam is required to become a Practical Nurse.